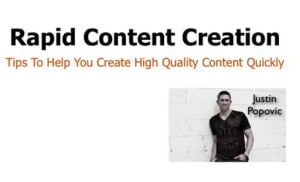 Using your PLR content as a base is one of the fastest and easiest ways to create any type of video, but a lot of people get stuck on the technical side of things.
A little while back, I created a couple video tutorials to show you my own tricks for how I quickly record videos with PowerPoint slides and audio.
But that's only my personal method.  There are dozens of others.
In the video below, my friend, Justin Popovic shared his own method of taking some PLR and using it to create 'rapid content' videos.
He's on a Mac, so you'll get that perspective. However, the same approach could be used on a PC.
Take a look:
If you're interested in creating fast video of your own, then you may also be interested in my big course bundle on Referral-Based Marketing. It has lots of slides in it that make it easy to create video courses:
==> The Referral Marketing Machine (Fully customizable course)