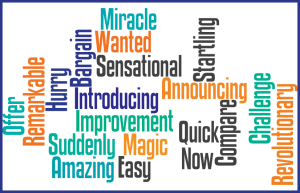 Do you ever find yourself searching for just the right word to jazz up your sales copy?
Or maybe you want to know what words would work best in a headline – a headline that catches people's attention and gets them to read your content.
Even better, what about words that really persuade people to take action – whether it's to buy a product, provide their email address, or just click through to a blog post?
We did a little research and put together a list for you of 125 words that expert copywriters rely on to power up their copy.
You can download it right here:
Print it out and keep it handy for whenever you have to write sales copy.
Want to be able to rebrand that list and share it with your own readers? You'll get a bonus, rebrandable and editable version when you pick up a license for our customizable 'Blaze' course – Copywriting 101:
==> Copywriting 101 – Tips and Formulas for Writing Words that Convert