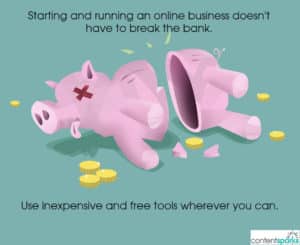 Whether you're first starting out online or you've been running an online business for a while, it's easy to get sucked into spending a lot of money on cool tools.
And I'm no exception! There are definitely a few tools I've purchased that I either never used or regretted spending money on.
But there are also quite a few that I rely on which don't cost much at all.
The following is a list of my favorite cheap (or FREE) business tools that I use on a regular basis. A few I used in the past when my business was first starting out (like JVZoo), but most are tools I still use every day. And there's no reason for you to pay more!
My Top 21 Budget Business Tools:
1. Asana
Project management & collaboration. Free to use.
2. Box.com
Content management, file sharing & collaboration. Trial & premium versions available. Also great when you need to embed a file somewhere else
3. Buffer
For scheduling social media updates, including posting to more than one site at a time.
4. Canva
Free platform for making all sorts of beautiful graphics (social media, infographics, banners, magazines, etc)
5. Dropbox
Cloud storage, similar to Box. Free & premium versions available. Use expiring links when sharing sensitive information.
6. Evernote
For note taking, clipping of web content, reminders, collaboration, cloud storage, and more. Free & premium versions available.
7. Facebook Groups
Great way to have a community without spending a dime.
8. Fiverr.com
Get pretty much anything done for as little as $5. No need to hire full time, expensive outsourcers when you only have a few little tasks.
9. Gimp
Free alternative to Photoshop.
10. Google Hangouts on Air
Like doing a webinar, but you can have multiple people being seen, and it automatically records and posts a video to YouTube. Free to use.
11. Google's Keyword Planner
Free way to research keywords and see what phrases people are using to find popular topics.
12. IFTTT – If this, then that.
Create all sorts of combinations of tasks you need done based on other actions you take. For example, you can set up an IFTTT 'recipe' to send you an SMS text reminder before any event on your Google calendar!
13. Jvzoo.com
If you're selling online marketing related products, this is an easy and inexpensive place to sell and to get affiliates to promote you. They take a small percentage of sales.
14. Namecheap
Inexpensive domain name registrar. (Look for their coupon for that month when you want to register a domain – under $10)
15. Open Office
If you don't want to pay for Microsoft Office, this is your next best alternative.
16. Site5
Inexpensive hosting for your site. Starts at $4.95/month.
17. Skype
Free calls to anywhere in the world to other Skype users. Can share screens and do group calls.
18. Woocommerce
eCommerce plugin. Free, but there are hundreds of paid extra extensions (plugins) available that make this a robust shopping cart option. ContentSparks.com runs on Woocommerce.
19. WordPress
Content management system & website builder. Free & premium themes available for customizing the look of your site.
20. Yoast SEO Plugin
SEO testing of posts & products. Free and premium options available.
21. YouTube
Video player & storage. Some editing features also, and you can make videos unlisted or private if you want. Free.
A Note on Email:
If you notice, I didn't put an email autoresponder in here. That's because the cost can mount up pretty quickly. I use Aweber, which starts at around $19/month. However, if you are getting enough subscribers to start spending more, then it's a good investment. So long as those subscribers are buying your products or services.
A free alternative to Aweber is Mailchimp. However, be careful of using Mailchimp if you plan to do affiliate marketing. They can be very, very strict about perceived spamming and you could end up with your account shut down.
If there's one place I recommend spending some money, it's on your email autoresponder. Your list is an asset that can't be replace easily.
Want a downloadable pdf of all the tools listed in this post?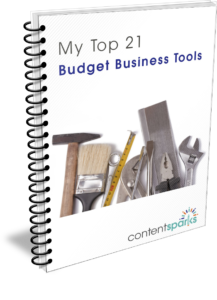 Just CLICK HERE and we'll send it to you right away!
Need some content to attract new prospects and customers for your business right now? You can use some of our professional quality, customizable content and just put your name on it! Here's one to check out today:
Teach your clients all the secrets of getting an online business started WITHOUT spending any more than they have to.
All you need are the training materials to put a course together, and the sales materials to promote it and get people to sign up.
That's why we put together a full course on the Shoestring Budget Startup.