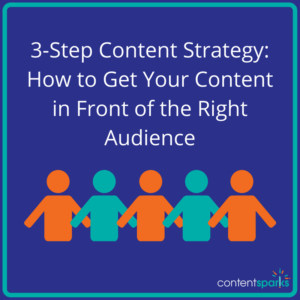 You probably already know that creating content is a prime way of showcasing the results you can get for your clients. You may also know it's one of the most effective methods of developing relationships with your customers, establishing yourself as an industry leader, and building a loyal customer base.
But, does your content strategy look a bit, well, like this…?

So, where do you start?
When you have a blank canvas, figuring out what content to create and where to publish it is a challenge for all content marketers – whether you're using done-for-you content or creating from scratch. However, spending a few minutes on strategy before touching any content will not only get those creative juices flowing, but it will also nudge your ideas in the right direction.
The quickest way to make sure you are creating the right content and getting it in front of the right audience can be broken down into three basic steps:
Set Your Content Goals
Identify Your Target Market
Pick Your Visibility Strategies
Step 1: Set Your Content Goals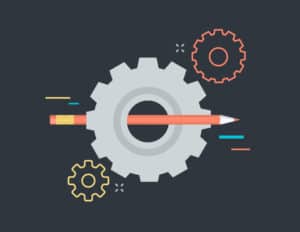 Your starting point should always be with the ultimate goal for your content. What marketing results do you want to achieve? And what reader actions will get you closer to those results?
Let's say, for example, you're looking to build your presence on Facebook so that you can grow your influence and brand recognition. You have a couple hundred followers, but you'd like a few hundred more.
With that goal in mind, you can assign a sub-goal to each individual piece of content that you create (or customize, if using done-for-you content). Then evaluate and tweak each piece to target its goal. Ask yourself, "Does this blog post encourage readers to share it on social media so that others who weren't previously aware of you might hear what you have to say?" How does your infographic encourage others to hit the 'wow' button? What is it about your quote image that makes your existing customer want to send it to a friend?
Regardless of the intent, make sure you keep in mind the question that must be answered 'yes' when applied to any published content – "Does this content help my overall goal?"
Step 2: Identify Your Target Market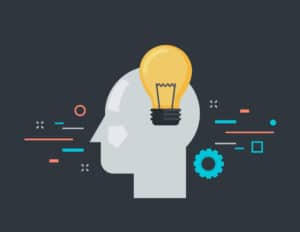 With your goals for your content in mind, you can begin to refine each piece according to who is going to see it.
We have other posts about how to tailor your done-for-you content to your target market (e.g., 5 Steps to Tailor Content to Your Niche Market) so we won't go into too much detail here. However, you still need to drill down on your target market before you can do any customization. If you don't already have a detailed description of your target market, gather as much of the following information as possible and create that profile now.
Demographic information

How old are they?
Where are they from?
What's their general level of education?
What's their occupation?
Psychographic information

What are their likes and dislikes?
What are their interests?
What are their values?
What are their opinions and attitudes?
Once you have this information about your 'ideal' customer, summarize a picture of that person in a paragraph or two. You could even have more than one target customer.
With your target reader profile in mind, you can now tailor your content to meet their needs and preferences.
For example, if you know that the people who are most likely to purchase your product respond to a more formal approach, then make sure all aspects of your content reflect that – copy, imagery, conversations, video production, etc. The same goes for the flip-side. If your ideal customers like to feel as if they're talking to a friend when they interact with you, offer that experience with more casual, empathetic language.
Now that you've set your goals and customized your content to fit your target market, it's time to get the right eyes on it…
Step 3: Pick Your Visibility Strategies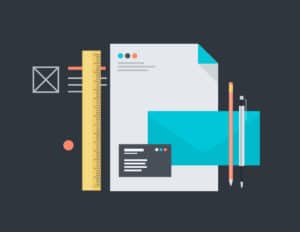 You might find that your goals immediately dictate where your audience is, as in the previous Facebook example. However, you might also find yourself a little lost again, as your target audience could be anywhere.
You also have to think about your budget. Are you prepared to spend anything to find your audience? Maybe you're just getting your feet wet with content marketing and don't feel comfortable putting any money into it just yet.
Either way, there are plenty of options to consider. Here are a few examples to get you started:
Examples of Free Strategies for Getting Eyes on Your Content
Social Media
With social media, you have the option of publishing content directly to platform, or publishing a link that will draw your audience to your site, blog post, or whatever you'd like the focus to be upon. The main benefit with social media is that it provides you with the widest range of audience possible. You can also use this platform to learn more about your audience, and add to your target market profile. The key to getting the best results is to focus on just one or two social media sites where you know your target audience interacts. Then post your content there and ask people to share it.
SEO
It doesn't take a great deal of effort to prime your site for better rankings in search engines such as Google or Bing. Spend some time thinking about the keywords you incorporate in your website content. Do a little research to find out what keywords are popular… but not too popular that you can't compete! Then use those keywords in your content in different variations. Try using a WordPress plugin, like the Yoast SEO one, to help you identify opportunities to improve the SEO of your content.
Blogging
Blogging is an exceptional method of content creation since it offers a multitude of benefits. Blog posts can be shared and on social media to enhance your presence there, as well as strengthening your SEO strategy with appropriate keywords. You can share them in emails to build your relationship with your subscribers, and it's a great place to showcase your expertise and opinions in a way that your ideal reader finds easy to digest.
Forum Posting
Using forums is a much more direct approach at finding your target audience for your content since you're actively hunting them down. Find active forums related to your niche, with members who will find value in what you have to offer. You can answer questions there, solve problems and become a member of the community before finding a way to encourage people to find out a little more about you and what you have to offer. Earn your right to share your own content first.
Podcasting
Podcasting is a content marketing favorite for those who are keen on establishing themselves as a brand and an expert. It also gives your audience an opportunity to get to know you by hearing your voice and, if you conduct interviews, by listening to you interact with others. With podcasting, you can begin to build your reputation by offering sound advice, tips, and information in an audio medium that a portion of your audience will prefer.
Examples of Paid Strategies for Getting Eyes on Your Content
Facebook Ads
The beauty of running Facebook Ads is in its versatility. You can target your ads to a very precise, narrowly defined audience and get your content directly in front of specific segments of your market. Facebook Ads are great for spreading awareness of your content, getting new eyes on your content, generating leads, and encouraging engagement. And Facebook Ads that send people directly to content (vs. an opt-in or sales page) tend to be cheaper than you might expect.
Google Ads
Google Ads work in a similar way, in that you can define who you want seeing your ad based on the information they've put in. Make sure you know your keywords inside and out before beginning with Google Ads, and set yourself a strict budget so that you don't go overboard with spending.
YouTube Ads
Four billion videos are viewed on YouTube every day. Use that amount of traffic to your advantage by advertising in one of a number of ways on their site:  In-stream ads play at the beginning of videos, In-slate play on longer videos, In-search appear in search results just like Google Ads, and In-display ads are embedded elsewhere.
With any paid traffic strategies, do your research thoroughly to understand the platform and best practices for running ads to your content before you invest anything.
These are just a few examples of methods for getting eyes on your content. We've also put together an infographic that covers these basic principles, along with a few more content visibility opportunities: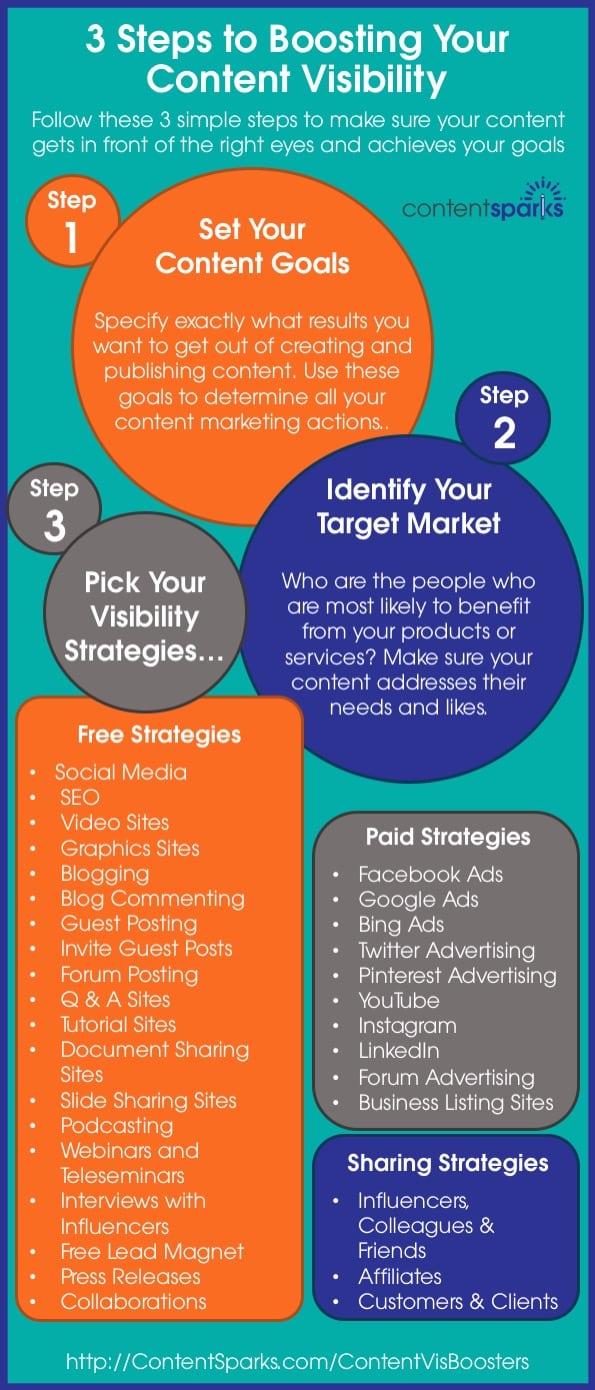 Want to download a pdf of this entire post?
Just click on the box below. Then download the pdf and keep it as a handy reference and cheatsheet when you're planning your next content and where you'll distribute it:
Want to learn more and teach others how to boost the visibility of their content?
Check out our done-for-you, rebrandable course on 'Content Visibility Boosters'. It goes through the content in this post in more detail, complete with learning activities and other handouts.
And the best part is that you can edit it however you want, put your name on it, and then share it with clients/prospects/members or sell it for 100% profit.
CLICK HERE to learn about Content Visibility Boosters >>