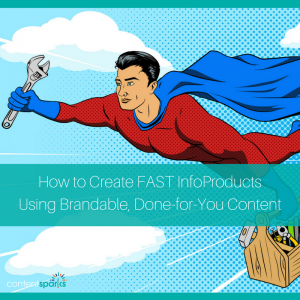 If you want to create new income streams, establish yourself as an authority, and build relationships with your customers, publishing your own information products (infoproducts) produces a triple digit score in all those areas.
Digital infoproducts like online courses, videos, and eBooks are wildly popular – customers use them to learn new information or solve problems they encounter in their business or their daily lives.
The problem is…
With so many infoproducts out there, how do you make yours stand out, ensure it sells, and is profitable?
The answer is to put many small, laser-focused products on the market. Although they're smaller, when each product addresses and solves a specific need of your market, they'll sell more easily AND buyers will have an easier time implementing.
But now there's another problem…
Who has the time to design and create infoproduct after infoproduct from scratch?
You could use content on your website, old blog posts, transcribe text from videos, and so on. But the simplest way to create a high-quality infoproduct is to…
Use brandable, done-for-you content!
You don't need to search out answers or create an entire product from scratch – you already have the raw materials at your disposal. Plus, if you've purchased it from a good source (like Content Sparks) you already know the content is high quality.
Here's how to repurpose your brandable, done-for-you content to create high-value infoproducts: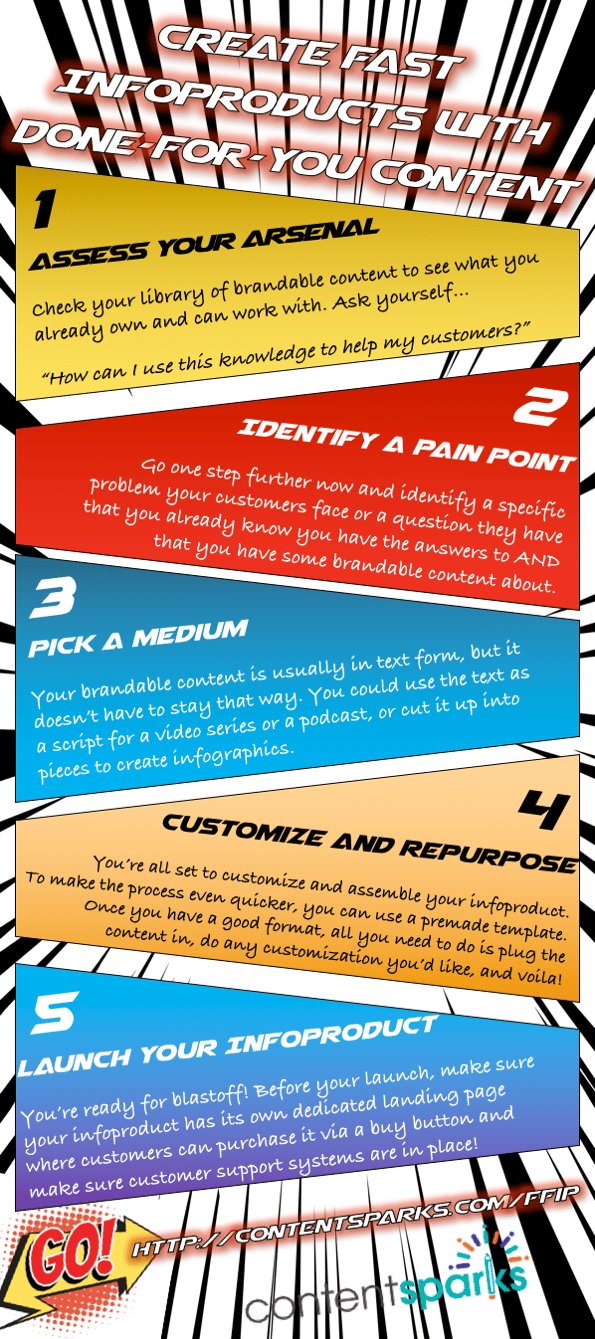 Step 1: Assess Your Arsenal
First, assess your library of brandable content to see what you already own and can work with. You may already have content covering several topics that could be turned into a series of infoproducts. The key to successfully using brandable content is to look at it with a critical eye and ask yourself…
"How can I use this knowledge to help my customers?"
Remember, any brandable content you've purchased can be used to create and sell infoproducts. If you want more details about what you can and cannot do with brandable, done-for-you content from Content Sparks, check out all our terms here.
Step 2: Identify a Pain Point
Go one step further now and identify a specific problem your customers face or a question they have that you already know you have the answers to AND that you have some brandable content about.
Do some research, follow your customers on social media, and go back through customer questions you've received in the past. You'll quickly find several problems your customers need solved. The only thing left to do is match up that problem with the solutions you have in your brandable content.
If you're still searching, another idea is to look at your competitors' infoproducts. This will give you topic ideas, and you can find a way to fill a gap in the market to make your content unique.
Step 3: Pick a Medium
Your brandable content is usually in text form, but it doesn't have to stay that way. You could use the text as a script for a video series or a podcast, or cut it up into pieces to create infographics.
You can also use smaller pieces of text content to create short eBooks or an email series. Just make sure that the infoproduct you decide on fits with the content topic and the resources you have. For example, if you're teaching your customers how to design their own website, it might be better to have the visuals of a video or an eBook rather than a podcast.
Not sure what else you can create with your brandable content, there's a list of ideas over on our Start Here page here. Ideas for different formats for your infoproduct include:
Short reports
Checklists and Cheat Sheets
Email series
Teleseminars
Webinars
Podcasts
Videos
Infographics
Self-Study Courses and eBooks
Live Workshops & Seminars
White papers
Pretty much any format that your market prefers can be created using brandable content as your starting point. Be creative and think outside the text box!
Step 4: Customize and Repurpose
Now that you've done the planning, you're all set to customize and assemble your brandable content into a brand-new infoproduct.
To make the process even quicker, you can use a premade content template. This works particularly well if you've already created infoproducts in the past. Use one as your starting point, brand it, and use that layout for a whole series of products on related topics.
Once you have a good format, all you need to do is plug the content into the template, do any additions and customization you'd like, and voila! You have a complete, high-quality infoproduct that cost you barely any time or money to create.
Need help on what to customize in your content to make it different? The easiest places to add your unique personality and twist are:
Titles and subtitles
Graphics
Images
Different or additional examples
Personal stories
Recommended resources
If you need more ideas or help with the technical side of branding your content, just refer to our Getting Started page here. There's a step-b-step planning template there as well as a downloadable Branding Guide.
Step 5: Launch Your Infoproduct
You're ready for blastoff! Before your launch, make sure your infoproduct has its own dedicated landing page where customers can purchase it via a buy button (such as one from PayPal). Also, be sure that your customer support systems are in place before your product launches.
Create some buzz around your infoproduct online by promoting it on your website, blog, and social platforms. You can even use other pieces of your brandable content to promote your infoproduct. For example, use text from a slideshow as Tweets or Facebook posts.
After you've launched your info product, don't forget to monitor your results so you can improve for your next product launch. Once you've created a few infoproducts, you'll refine the process to be even smoother and quicker. Using this method, it's easy to create high-quality infoproducts from existing content and you'll be seeing results in no time.
Ready to get started?
Use our free mind map template to outline and plan your next infoproduct… using brandable, done-for-you content. Click on the button below to download:
Want to teach your own clients and customers how to create infoproducts quickly?
Check out our brandable, done-for-you course on how to use content you already own to create new streams of income with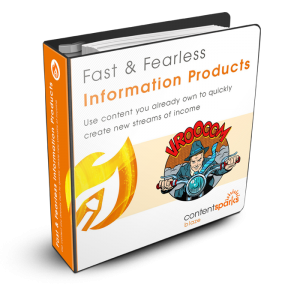 infoproducts:
CLICK HERE for Fast & Fearless Information Products
When you purchase a license to our exclusive course, you get the ability to edit it however you want, put your name and brand on, and share it with clients/prospects or sell it for a profit.
You could even create your own paid infoproduct about infoproducts 😊