One more thing…
Before you check out, see these related special offers for expanding your course (details below):
Not interested? CLICK HERE to continue >>
You can click on any of the titles below to see more details. Or just click on the Add to Cart buttons to instantly add them to your cart.
When you're done, head over to your cart to review your order and checkout.
With our Repurpose! From Blog to Book to Course Expansion Pack, you'll get content that complements our Repurpose! From Blog to Book to Course course. These are terrific to use as handouts, surprise gifts, bonuses, and lead magnets. The resources include:
10 Tips for Creating Your Ebook Cover – Text and Infographics in .docx, .pptx, .pdf & .png
Tools for Creating Your Ebook Cover – Pros & cons of different approaches, plus examples of tools
5 Resources for Turning Your Blog to a Book – Summary of the features of 5 different tools
Create Learning Activities For Your Online Course – Guide & Worksheet – Motivate your students to take action by crafting the highest impact learning activities for your online course.
Learning Activities Template – As a companion to the guide & worksheet, use  this template to improve existing learning activities and apply the concepts to other content .
Social Media Images – An editable Canva template with 10 beautifully designed social media images.
Click below to get the Repurpose! From Blog to Book to Course Expansion Pack:
Expansion BONUS!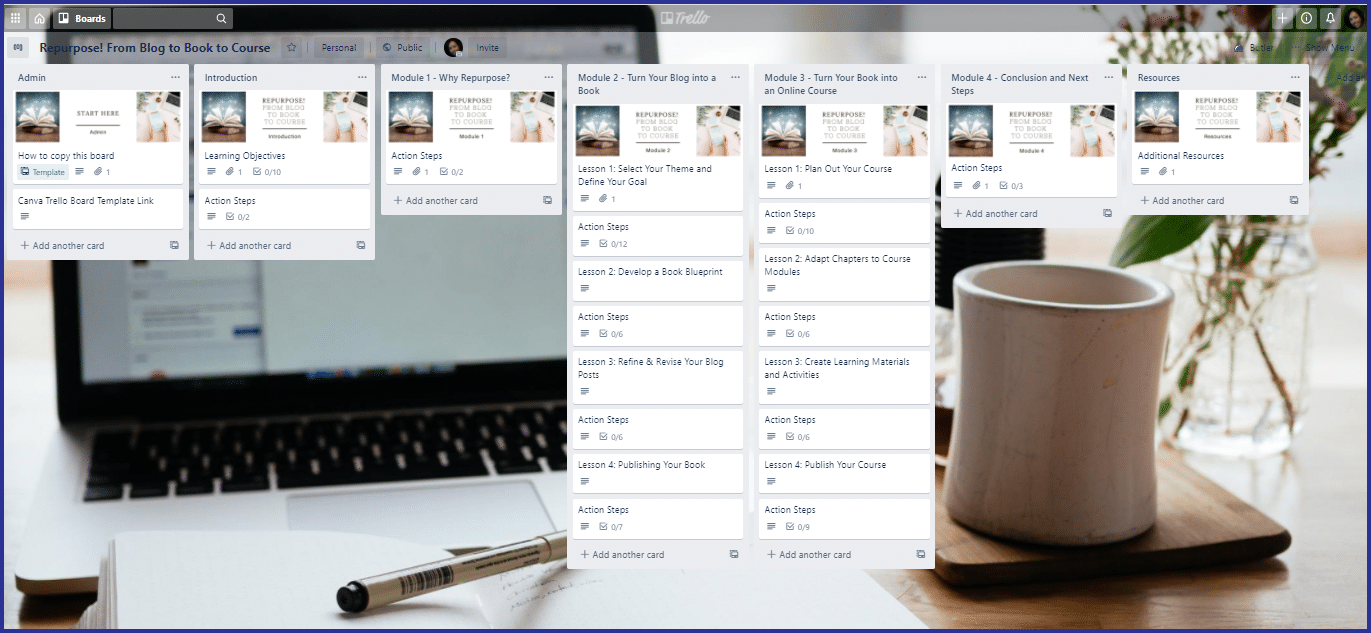 If you get BOTH Repurpose! From Blog to Book to Course AND this Expansion Pack, you'll also get the following bonus:
Trello Board – The Action Guide for 'Repurpose! From Blog to Book to Course' set up for you in an interactive Trello Board.
Just copy the board and edit however you want. Then offer it as a bonus for students in your program, so they have a digital way to complete the Action Steps.
You can even repurpose it in the future for other online courses!
IMPORTANT: The Bonus Trello Board will be sent via a separate email when you purchase both packages – the main course on Repurpose! From Blog to Book to Course AND the related Expansion Pack.
Suggested courses for expanding your program:

With Launch and Market Your Online Course, you'll get everything you need to LEARN, TEACH, and ATTRACT students to your own program, where you'll show them how to get their course in front of the right people and maximize their sales.
Click below to get Launch and Market Your Online Course:

Quickly put together your own online course, live workshop, or coaching program on how to Promote & Market Your Business Book – where you'll teach your audience how to increase sales and put their book to work for their business.
Click below to get Promote & Market Your Business Book:
---
Still not sure? Here are a few Frequently Asked Questions:
What does my license allow me to do with my Content Sparks content?
Your license gives you the rights to edit or cut up the content into sections, combine it with other content, or transform it to other media formats (such as audio, video, graphics, etc).
You can then share or sell the content with paid customers or prospects who have given you contact details.
The exception is the content meant for promotion, such as tweets, blog posts, and graphics. You can publish those freely anywhere on the web to drive traffic to your site and offers.
What am I NOT allowed to do with my Content Sparks content?
You are not allowed to sell or give away a license  or the editable files to anyone else. That means you can NOT sell or share the Private Label Rights (PLR), Resell Rights, or Master Resell Rights to anyone.
Also, you are not allowed to publish the content freely on the web where anyone can read or download it, including free membership sites or forums. The exception is promotional materials, as mentioned above. This protects the value of your content.
Do I have to rewrite the content?
You have the option to rewrite it if you choose, but it is not necessary. However, we recommend that you rewrite and add to any web-based content that you want found by search engines (like Google), so that it will rank higher in search engines. Adding value to existing content is also important, such as additional images, examples, stories, or lists of resources. By adding your own personal examples and experience, you'll boost your reputation and credibility exponentially.
What should I charge for the content once I've made it into a product?
Pricing your content is always a challenge and it depends on your own market. Some people charge $97 for a webinar series. Others add it to a $27/month paid membership program each month. And some have charged as much as $1997 for a full training program with coaching added.
Take a look at what competitors and similar businesses are charging in your industry. Then find your own middle ground based on how you want to position yourself.
We recommend that you never charge less than $27 and charge more if you're adding live or video elements. Charge even more if you're adding coaching.
If I want to set up a sales funnel, how do I get started?
We have a number of tutorials and videos in our blog, as well as a list of our favorite resources we use in our own business.
Start by watching these tutorials:
==> Profiting from Content: Basic Funnel Set Up for Beginners
==> How to Quickly Customize Your Content
And get ideas for resources to use here:
==> Resources I Use in My Business
How can I get help if I need it?
You can always contact our support desk here:
You should expect an answer within 24 hours, except on weekends.