Big news! I'm testing out a new type of licensed content here at BCPLR. It's PLR Infographics. You may have seen a few sites around who are also offering these, but I've been pretty disappointed with what I've purchased or seen myself. At the same time, I absolutely love infographics and I know that most of you do too.
So, I've decided to go on a quest to create affordable PLR infographics that you can use and rebrand for yourself. The first one I'm testing out is based on an article from my Online Reputation Management PLR pack. Go check that out if you want some articles, tweets and worksheets on that topic. It's one of my most popular packs.
Here's what my graphic designer and I came up with: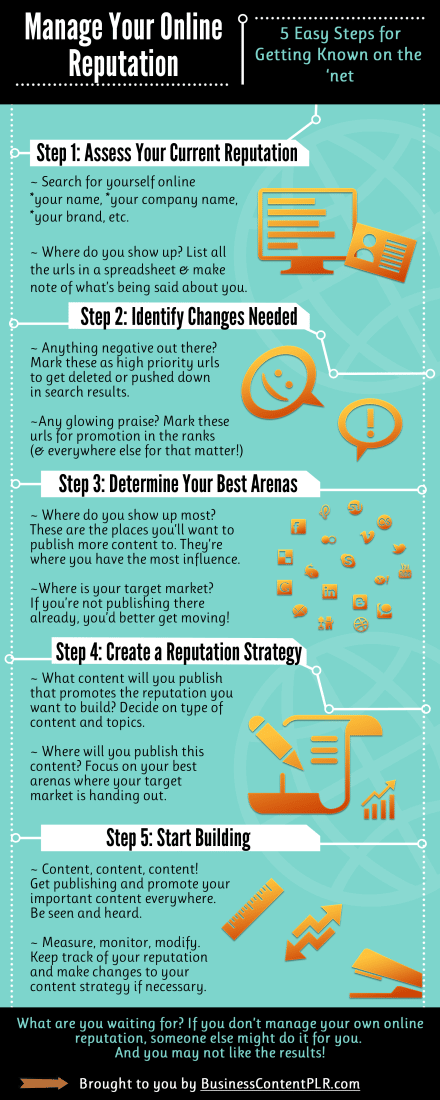 If you want to use this, just right click on the image and choose "Save Image As" to save it to your computer. Then use a photo editing program like Paint or GIMP to put in your own branding at the bottom. I use Snagit, which is incredibly easy for the non-techie.
I also created a brief tutorial for how you can use a free online tool for putting your own website name on the graphic – How to Brand Your PLR Infographics. (opens in a new window)
Now I have a few questions for you. What do you think?
Is this something you would purchase and use?
What would you change to make this more useful or valuable to you?
If this is something you want me to offer more of, what format do you want? For example, some PLR providers provide these as pdfs, jpegs, png, and/or psd files.
I'd appreciate any comments or feedback you can offer. If you don't want to add them in the comments below, just email me at sharyn@businesscontentplr.com
Thanks!
P.S. You're welcome to share this image with others. Pin it to Pinterest, share the image on your own posts or emails, or even use it in any reports or ebooks.