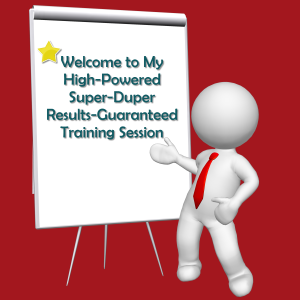 Everywhere you turn around online, there's some expert telling you that you can learn to do X, Y and Z if you just attend this webinar, seminar, ecourse, coaching program, tutorial or other brilliant presentation. It's always so tempting. Now, how many times have you come out of that training with a tangible result?
How many times have you gone on to implement what you learned?
Just because you know how to do something well doesn't mean you can teach it to others. You may be an expert, a guru, an internet marketing genius, or any type of successful entrepreneur. And you may want to help others replicate your success, whether through noble or purely monetary intentions. But it's not as easy as slapping together a few webinars, a video and an ebook. Even a one-on-one coaching program may not do the trick.
The good news is that there is a process you can follow to create a training program that will deliver the results people expect. And if people learn something useful, they'll be coming back for more.
What does it take to create a learning program that delivers?
There are a few key steps involved that are the backbone of all training. In the instructional design world, it's called the ADDIE model:
Analyze

Design

Develop

Implement

Evaluate
Analyze
This is the first and most critical step. Assess the needs of your target audience, where they are now and where they need to go. Ask yourself:
What do they already know how to do?
What do they need to be able to do to succeed?
What do people do who are already successful in this area?
What's the gap between what the learners can do now and what they need to be able to do?
You don't even have to be an expert in the topic to figure this one out. Just sit down with someone who is already successful and break down everything they do.
All of your analysis should lead up to a set of learning objectives. What will people be able to do at the end of the program? And don't use the word "know". Just knowing how to do something is useless if you can't actually implement it yourself.
For example, say you want to teach people how to make affiliate income on Pinterest and you're targeting complete beginners. You know from your own experience that one of the basic skills involves substituting a direct link to a pin with an affiliate link. Here are both good and bad examples for that objective:
Useless objective:
"Participants will know how to create affiliate links for their pins."
Better objective:
"Participants will be able to replace direct links with affiliate links for their pins."
"Participants will edit at least one pin on an existing board and insert their affiliate link."
What's so great about that last objective? Your audience is going to walk away with a skill they can use immediately. After all, they've already done it once. And if they also walk away with a plan for how they're going to use that skill, you're golden.
Design
Once you've written your learning objectives, you can get on to the business of designing your training. What is it going to take to deliver on those objectives?
Ask yourself these questions:
What are the best methods of learning for achieving each of my objectives?
Hint: Just because you want to do a webinar doesn't mean it's the best method.
What do people need to know or have in place first, before they can tackle the next objective?
Hint: You may have to ask people to do something on their own before attending the training.
What kinds of activities will help people achieve each objective?
Hint: Whenever you can get someone to actually implement a skill during the training, the better the results will be.
What kinds of takeaways will help make sure people continue to implement what they learn?
Hint: If all else fails, having people walk away with their own action plan is one of the best routes to success.
Get creative and think beyond the webinar, workbook, video norm.
For example, activities for Pinterest training could include having people find Pinterest boards that are in their niche before the training and noting what's special about them. Or you could even explore the wackiest boards and hold a brainstorming discussion on ways to monetize them.
D.I.E.
This is where everything comes alive. Once you've done a good job of analyzing and designing your training, you just have to create it, implement it, and measure your results so that you can keep improving.
The development of the training could even be outsourced if you've done a detailed enough job in the design. Even better, find some PLR on the topic, then you can edit and add to it to create your training. Browse through the topics here at Business Content PLR for some ideas.
Finally, run your training and get some feedback on results. Do a survey, send follow-up emails, check back in a month or two or three to see whether people took action. If you achieved the results you wanted in terms of learning, you'll feel great. And if you linked the training to some type of marketing and sales funnel, you'll probably have seen some great results there too.
Have you run successful training in the past? What did you do to make sure people implemented what they learned?