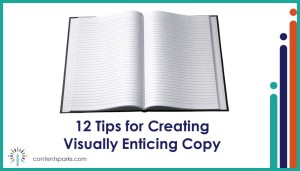 Have you ever landed on a page and were greeted by a big long block of text?
…and then left.
I've done it more times than I can count. Who has time to sift through and try to figure out what the key points are?
They made me do that in college. I don't need to be forced to now.
It should NOT be hard work.
If your readers like what they see at first glance, then they'll decide whether they want to read the detail…or not.
That said, we put together a slideshow that gives you 12 tips for creating visually enticing content.  
Follow these tips and provide good content. Then you'll attract the readers who want what you have to offer.
Here's another tip:
Slideshows are a great way to force you to pull out key points for your readers.
And they're also a media format that's become more and more popular, as you'll find if you start posting good content on Slideshare.
Short on content?
We pulled the tips for this slideshow from our customizable course on Copywriting 101. No need to create everything from scratch 🙂
Here's the link if you want to create your own content on copywriting:
==> Copywriting 101 – Tips and Formulas for Writing Words that Convert
Enjoy!