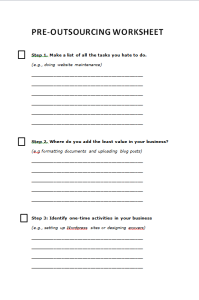 Worksheets and checklists provide a tremendous amount of value to any content you create.
They help people take action on what they've learned, which means your readers and customers will have better results and more success from your products.




[tbpquotable]Successful customers = loyal customers who will return to purchase from you again and again, and who'll recommend you to their friends.[/tbpquotable]
What's great about worksheets is that they're incredibly easy to create.
In this video, I've demonstrated just how fast you can put together a worksheet or checklist of your own to go along with a PLR article.
As you watch the video, you'll see that I used an article that already was set up with specific steps. Those are the easiest ones to work with.
Then I just copied the article into a new document, renamed it, and took out the extra text.
Expert Tip: Make sure that each item in your worksheet is "actionable". It should be a specific question people can answer after reading your content, or a tasks they need to complete.
Pretty formatting and colors, along with your logo, will make your worksheet look more professional as well.
How do you use worksheets and checklists with your content?