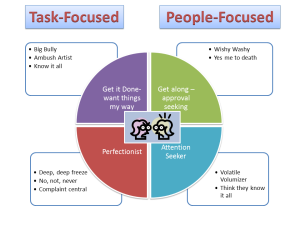 Nothing makes your content jump out at your readers more than graphics and other visuals.
There are dozens of ways to create visuals quickly, as shown in our Visual Content Marketing product. In this tutorial, though, I'm going to walk you through how you can create a beautiful graphic in minutes.
I'll be using some content from Justin Popovic's Dealing with Difficult People premium PLR bundle, along with the Smart Art feature in PowerPoint 2010.
Follow along with the video as I step you through the process of creating the image above.

Give it a try with some content of your own. Try using something that has clear steps or a process. Then pick a Smart Art graphic that you like and play around with it.
If you want to pick up the Dealing With Difficult People product that Justin created, I'll also add the image I created as an additional bonus for people who decide to buy through my link. There are already some quote images on the download page as a bonus.
Oops! I nearly forgot that Justin gave me the pdf I used in the video to share with you too 🙂
Click the button below to Download the pdf:

Download pdf
Have fun!
P.S. You can create those graphics directly in Word 2010 also. Just click on the "Insert" option in the top menu and then select SmartArt and the graphic you want.