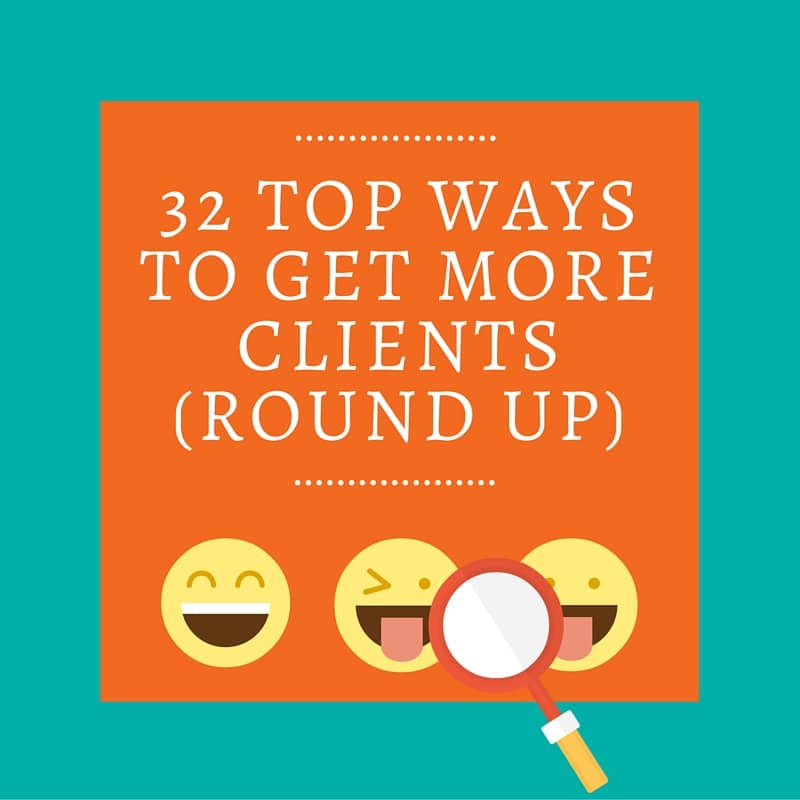 You can never be short of ideas for how to get more clients. There are hundreds of tactics. And yet, we can still find a multitude of excuses for not spending time marketing. After all, we're busy helping the customers we already have!
That's why we put together our ready-to-go course and report called Get More Clients. It has 19 tactics you can teach to your customers.
But why stop at 19?
The following list of ideas will leave you with no excuses. I've pulled them from some top websites and there are bound to be at least a few that appeal to you. Some will work well for you. Some won't. And some you won't want to touch.
I've also included a 'Key Tip' from each article to give you an idea of what the writer focuses on. Go ahead and click on any of the links to dive into that article further and get more details.
And take notes! You may want to share a few of these with your own customers.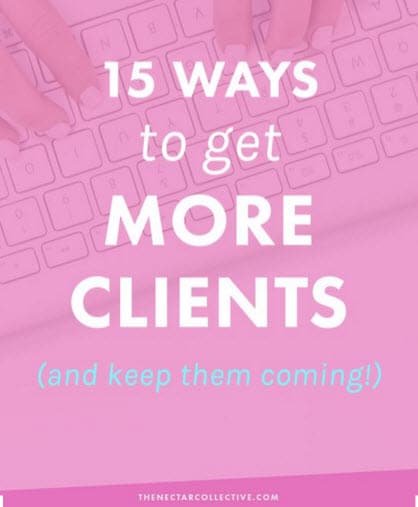 15 Effective Ways to Get More Clients (and Keep Them Coming)
Key Tip:
Pick just 3 to 5 tactics that resonate with you and you'll be getting new clients in a matter of weeks.
15 Ideas
Actively participate in Facebook Groups
Create blog content with your Ideal Customer in mind
Perfect your current client process to receive more referrals
Answer Questions on Twitter
Work with clients who have a large, engaged audience
Build an active social media presence
Follow up with potential clients who never purchased
Follow up with past clients to see if they need additional help
Try Facebook Ads
Build your email list and stay in touch with your subscribers
Guest blog on other sites
Add Etsy listings for your services
Pump up your SEO
Focus your business on a specific audience
Host a webinar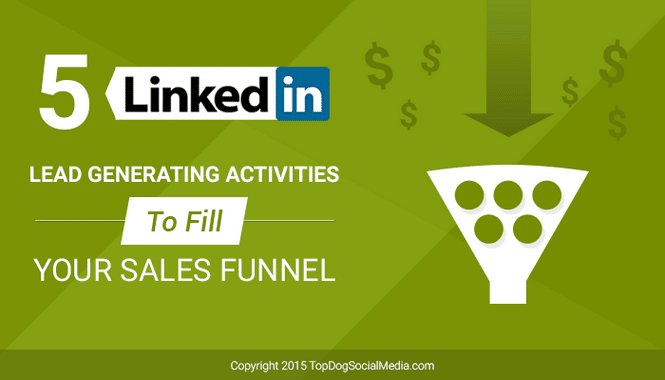 5 LinkedIn Lead Generating Activities to Fill Your Sales Funnel
Key tip:
You must earn the right to have a conversation with your potential prospects.
5 Ideas:
Connect Directly with Your Ideal Clients
Send Content to Your Hot Prospects
Expand the Reach of Your Content
Grow Your Network & Engage Your Ideal Clients
Use LinkedIn Ads to Reach a Highly Targeted Audience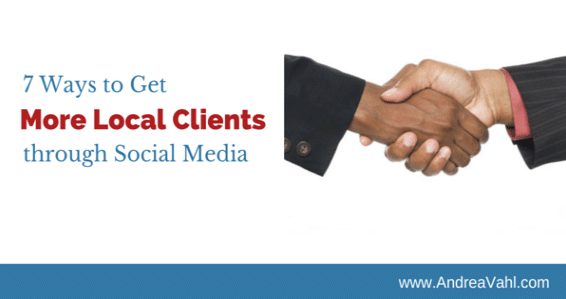 7 Ways to Get More Local Clients through Social Media
Key Tip:
For local businesses, it's important to connect face-to-face at networking events or other venues, but you can definitely use social media to reinforce or initial that connection.
7 Ideas:
1. Connect on LinkedIn
Use Advanced Search to find them
20 new people each week
Join Groups too
2. Follow on Twitter
Use Twitter Lists to find local lists or Followerwonk to search for keywords from bios
3. Look for Local Networking Events on Meetup

See how many past events they've had
Search Google too
4. Look for Local Groups on Facebook
Use Graph Search on Facebook to find Pages, Events and Groups for B2B
Put search term in, then in drop-down click on the term you entered
Filter results
5. Advertise on Facebook

Target by zip code and area
Use ads to build your email list and build connections
6. Make a List of Local Influencers or Similar Businesses and Partner Up
Look for people leading Groups, eg Meetups, LinkedIn, Facebook or an active Facebook page
Look for people with similar business, but who don't offer the same services
7. Leverage Your Content
Create useful content and tailor it to your local market
Share your content across different social platforms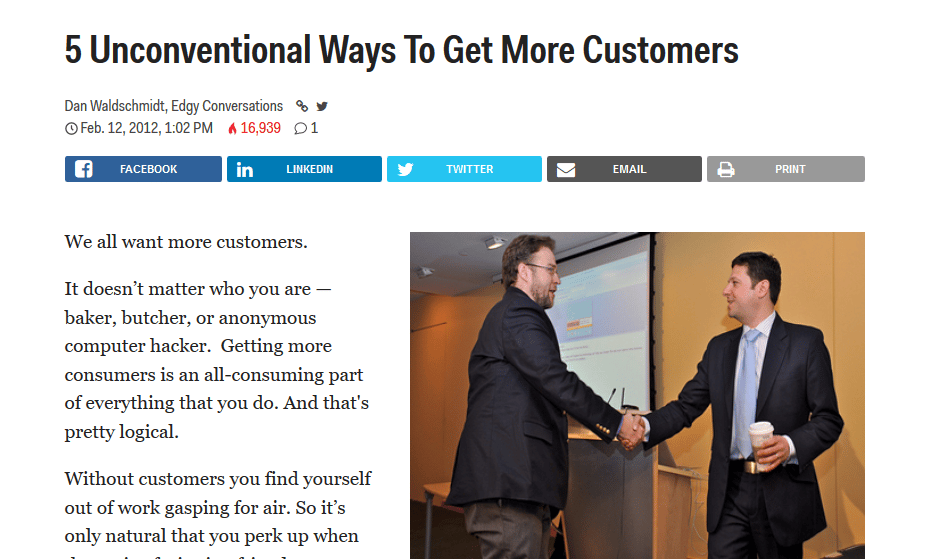 5 Unconventional Ways to Get More Customers
Key Tip:
You can be madly successful without selling your soul.
5 Ideas:
1. Stop needing more customers

Don't be 'needy' or desperate.
Be busy helping people for free.
2. Qualify new customers like they're enemies
Make it a rigorous process so you only take on clients who need the value you offer.
3. Deliver way more value than customers deserve
Exceed expectations to create raving fans who become evangelists for you
4. Treat referrals like gold
They're the next generation of buyers
Build a relationship before any pitching
5. Be something that matters
Be more than a 'better product'. That's boring
Have an unselfish attitude and plan to enrich the lives of others
People want to be part of a business that cares
Those are 'just' a whopping 32 ideas from your fellow marketers to stock up your own marketing arsenal.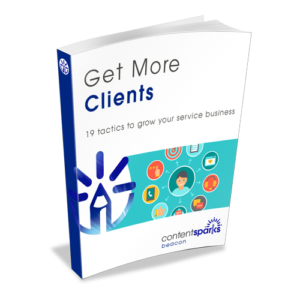 If you want to structure everything into a course, paid or as a lead magnet, then check out our ready-to-go course content:
Get More Clients:
19 Tactics to Grow Your Service Business
The materials are all customizable, so you can tailor them to your own market and change them any way you want.
These 'X Ways' reports are some of the most popular among customers AND they're extremely easy to customize. Just add other tactics of your own and take out ones you don't agree with. Don't overcomplicate it.
And, as with all our content, you can put your name on it, then share or sell for 100% profit!