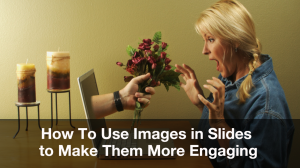 Most people tend to stick with boring, dry PowerPoint slides with the traditional Title and bullet point list.
Some people may go so far as to add a little clip art, and some colored text or backgrounds.
But one of the best ways to really engage people with your slides is with big, bold images – preferably those that draw some emotional connection with the content of the slide.
With text and bullet points, people read ahead then go back and listen to what they've already read. Or they miss something you said while they were reading.
With good images, you immediately draw their attention, and hopefully engagement, so that they sit up and listen to what you have to say.
In this video tutorial, I used a slide presentation from one of our customizable reports (How to Create High-Converting Squeeze Pages) to demonstrate the possible use of images in slides:
You can choose from a pretty big range of photos within Microsoft PowerPoint itself, but if you create a lot of slides, you'll start getting bored quickly. There are plenty of royalty-free stock photo sites where you can get great images, some even for free. Or better yet, take your own photos and use ones from your business as well.
Have any image tricks of your own?  Please share!
And if you want to pick up some content that already comes with slides, be sure to check out the topics available in our Blaze category of ready-to-teach courses:
==> Click here to get your Brandable, Done-for-You Course Kits (comes with slideshows!)