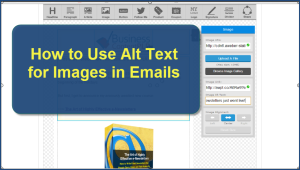 Are you using images in your emails? I hope so! While there are some email platforms that don't show images as a default, they're still an important part of making your emails interesting and engaging visually.
However, you have to allow for people who aren't seeing the images right away. You need to do something to encourage those readers to display your images.
Also, if you have an image at the top of your email, like a header logo, whatever you have as alt text will show up in people's email preview. You definitely do NOT want that to say the default "Image". Who would want to click on that?
In this video tutorial, I've walked through how to use alt text, both to encourage people to display their images AND to control what shows up in the email preview your readers see before they even open your mail.
The email I showed in the video is one I sent out for promoting one of my fully customizable training programs. You can see the sales page itself here:
==> The Art of Highly Effective E-Newsletters – Fully Customizable Training Program (with PLR)

Do you have any other tricks for using images in emails? Please share!