Information products, those digital problem-solving resources that answer every problem from 'how to increase website conversions to 'how to trim your cat's toenails', can be a treasured source of income for pretty much anyone.
Infoproducts can expand your credibility as an expert, provide much-needed training for clients, build a loyal following of subscribers, and….
But they still take some time to create. And most of us are already stretched thin.
Does that mean you should give up on the idea? That you have to just keep doing what you're doing now?
No! Because, most infoproduct creators are just like you and me. Short on time and high on goals.
You simply need to follow the 3 keys that will allow you to pump out some valuable infoproducts in your spare time!
Check out the keys to quickly creating profitable information products in my short, 2-part video series below:
Part 1:
Part 2:
Want to learn more AND teach your own clients and customers how to create infoproducts quickly?
Check out our brandable, done-for-you course on how to use content you already own to create new streams of income with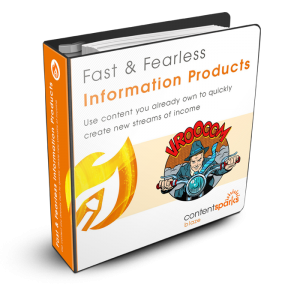 infoproducts:
CLICK HERE for Fast & Fearless Information Products
When you purchase a license to our exclusive course, you get the ability to edit it however you want, put your name and brand on, and share it with clients/prospects or sell it for a profit.
You could even create your own paid infoproduct about infoproducts 😊