The Ready-to-Go (White Label) Training Programs can be used almost anywhere you publish and teach content, and edited almost any way you want.
However, to protect their exclusivity for the sake of all buyers, there are a few rules you must follow.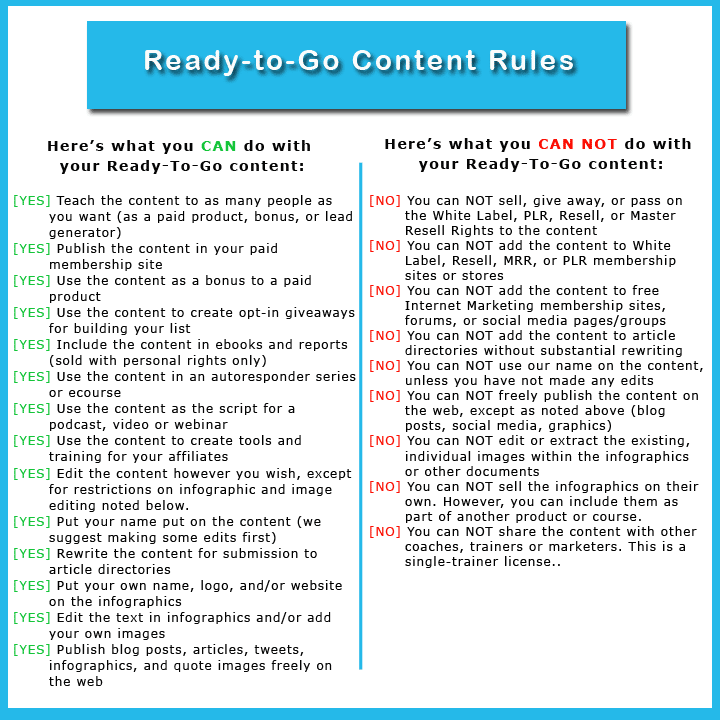 If you want to compile the content into an ebook or report, you can sell or give away your finished ebook, but you must convert it to pdf and only give personal use rights to your buyers. In other words, you cannot pass on White Label, PLR, or Resell Rights to the content in any form.
If you are using the Ready-to-Go, PLR or White Label program blog posts on your web site, it is a good idea to give each item a unique title. For the best SEO results, put your keyword in the title and in the first and last sentences of any article. If it sounds natural, include it in the middle of the article also.
You can customize your new content any way that you wish, including editing, cutting up and combining with other content (White Label, PLR, or your own).
If you want to submit any of the content on Business Content PLR to article directories, you need to rewrite it. It is against the rules of most article directories to submit copied material anyway. You may want to use the bonus outlines to help you rewrite the content quickly.
If you want to put your name on our content as the author, you should rewrite some of it first or add additional content/value. This is to avoid having many people claim authorship to the exact same material. Alternatively, you may use other wording, such as "Presented By: (your name or site)" or "Provided By: (your name or site)".
Enjoy!
Sharyn