Want More Resources for Creating Your Ideal Customer Profile?
We've created an 'Expansion Pack' which includes a questionnaire, publishable 'builder', guided journal, and more, that you could add on to your Create Your Ideal Customer Profile package.
Or, use the content on its own to attract more followers, build customer loyalty, and drive more leads and sales.
As an expansion pack, the content allows you to provide an even more extensive program for your students. You can use the materials to create additional training, supplement the main course materials, or even create smaller paid offers.
You can use the content as bonuses to increase the value of your program. Or, consider using elements as additional lead magnets to attract students to this or another course.
The Create Your Ideal Customer Profile Expansion Pack includes:
ICP Questionnaire – (35 pages) Your students can use the questions in this in-depth questionnaire with people in their target market, to help create a detailed description of their ideal customer. In .docx.
ICP Builder – (67 pages) Use this builder to set up a printable book on Amazon KDP or elsewhere. It makes an ideal accompaniment or alternative to the ICP Questionnaire for defining your Ideal Customer Profile. It's also a great way to drive more leads to your course! (Comes with a cover page, instructions and in both .pptx and .pdf formats.)
ICP 5D Snapshot – (12 pages) Use this snapshot template as an add-on to the ICP Builder or a hand-out in the course. Once your students have completed their detailed Ideal Customer Profile in the Builder, they can use this template to create a high-level summary of their Ideal Customer. In both .pptx and .pdf formats.
ICP Guided Journal – (53 pages) Your students can use this journal to record their main findings about their ideal customer from their initial thoughts, conversations, and research. They can then analyze their results by identifying themes, common factors, and trends. When the analysis is completed, they'll have a detailed ICP. (This is a great add-on to the spreadsheet in the main course, for people who prefer something printable.)
Social Media Images – An editable Canva template with 10 beautifully designed social media images.
Expansion BONUS!
When you purchase both our course on how to Create Your Ideal Customer Profile AND the related Expansion Pack, you'll also get the following: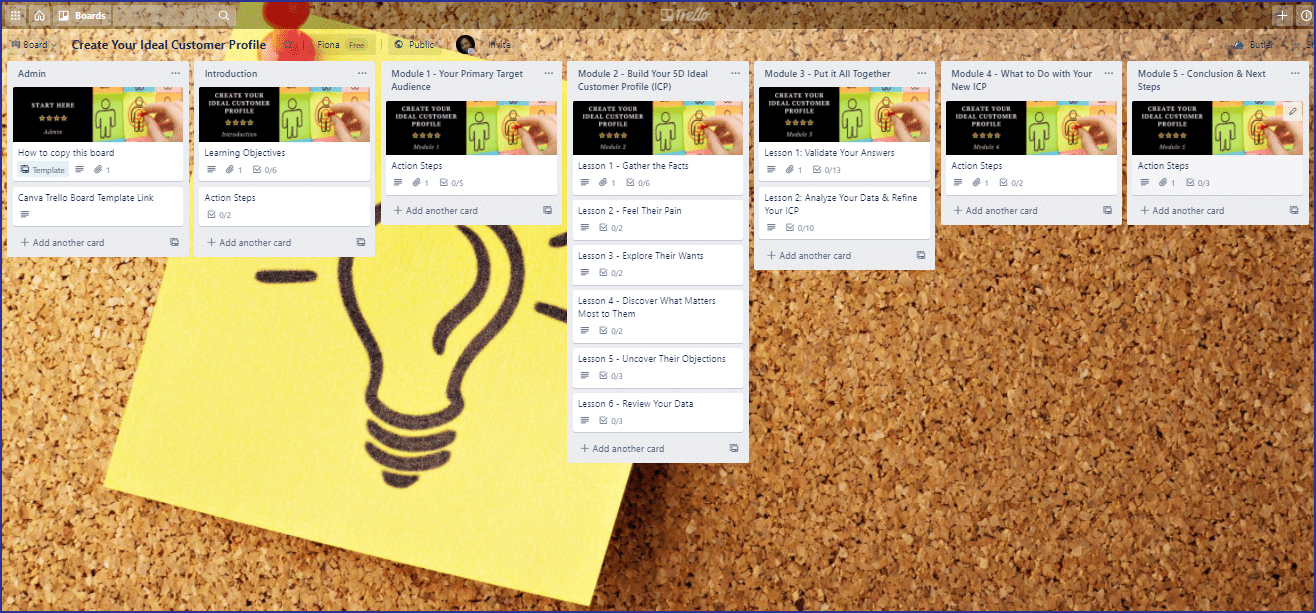 Trello Board – The Action Guide for 'Create Your Ideal Customer Profile' set up for you in an interactive Trello Board.
Just copy the board and edit however you want. Then offer it as a bonus for students in your program, so they have a digital way to complete the Action Steps.
You can even repurpose it in the future for other online courses!
IMPORTANT: The Bonuses will be sent via a separate email when you purchase both packages – the main course on Create Your Ideal Customer Profile AND the related Expansion Pack.
Screenshot previews of all your content in the "Create Your Ideal Customer Profile Expansion Pack":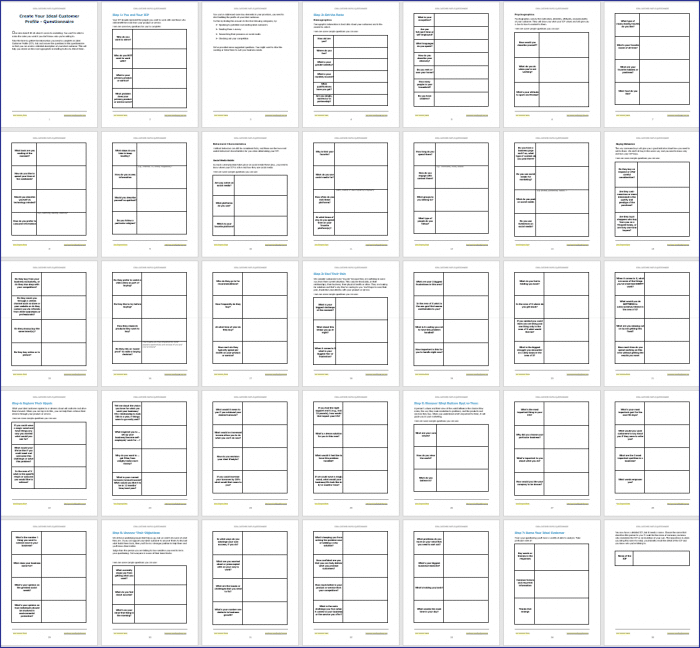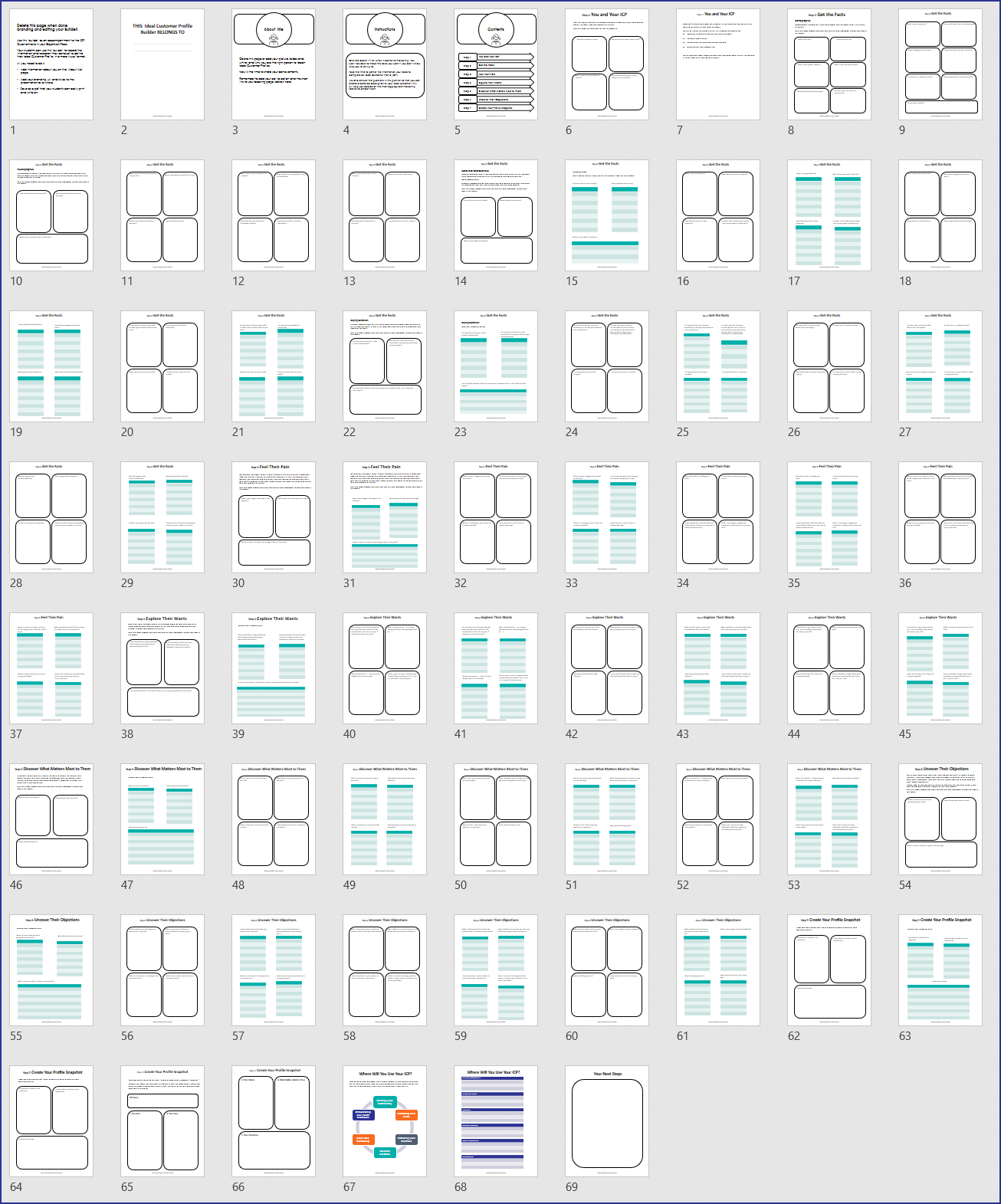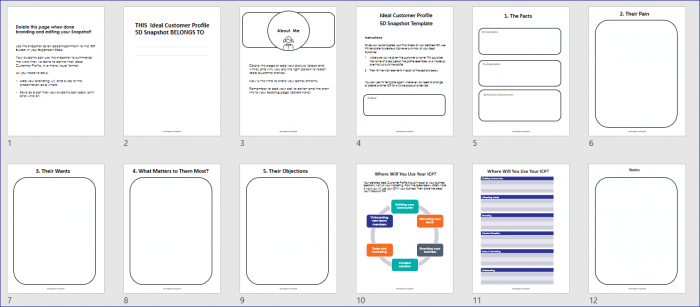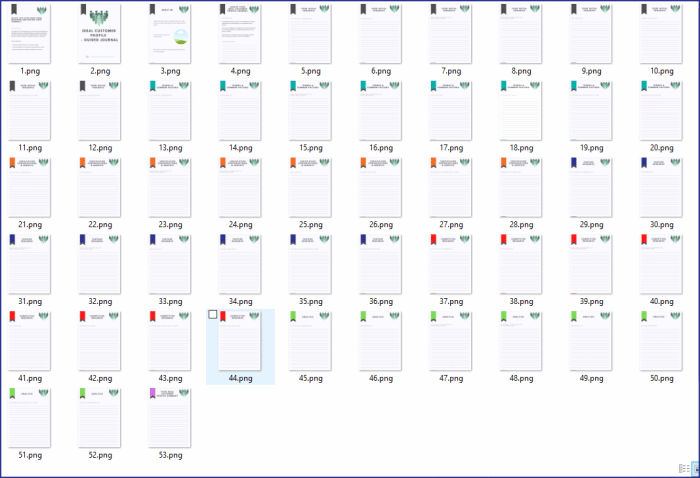 If you don't already own the main course on Create Your Ideal Customer Profile, you can get it here:
Then, be sure to pick up the Create Your Ideal Customer Profile Expansion Pack here: