Customers ask me regularly how they can quickly customize their brandable (aka PLR) course / white-label content so that it's unique to themselves and their market. No one wants to spend days on rewriting since it defeats half the purpose of buying done-for-you content, which is to save time.
Even when you do want to make edits, you're saving hours and hours of time on the research, designing, and structuring of your course content. But sometimes you just need to get some content out the door.
With that in mind, I've created a checklist of the key places to start when rebranding your course content from Content Sparks and adapting it to your market.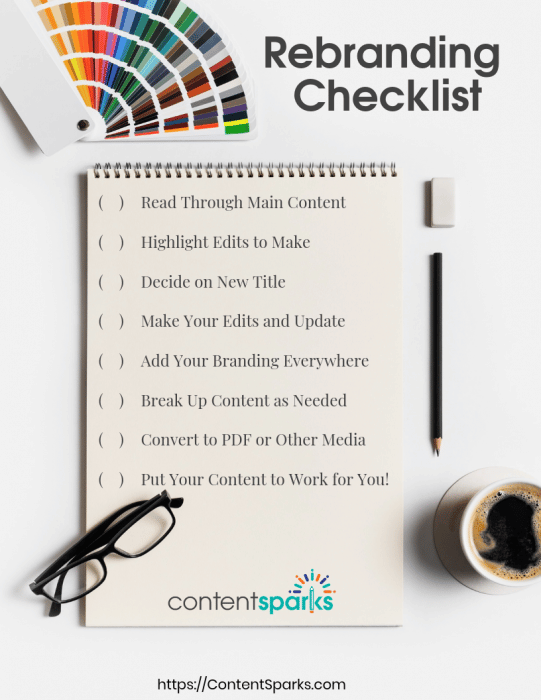 You can download a printable PDF of this checklist for your personal use HERE.
Steps to Customize and Rebrand PLR Course Content:
Step 1. Read Through Main Content
Read through the content at a high level so you know what's covered and how.
If you have a Blaze or Beacon package, you can use the provided Summary Cheat Sheet for an overview of the course content, which makes it much faster to see key points and where you might want to make changes. Many of our Flash and lead magnet packages have a cheat sheet too, so this doesn't just apply to full courses.
Step 2. Highlight Edits to Make
Highlight what you want to edit, remove, or add to the main course. Don't forget the Action Steps at the end of modules too, since you might want to edit those.
Note: You don't HAVE to change anything!
Also highlight where you want to add images, and where you have examples, stories, resources, or even existing content you can use to make it personal to you. To identify where you want to add examples, use the search feature in your word processing software to look for the words 'example', 'e.g.', 'for example', or 'for instance'.
Even where there aren't examples already, you should consider adding some.  For instance, worksheets and templates can benefit enormously from your own filled-in examples.
Step 3. Decide on New Title
Decide on a new title that fits with your branding, the context you'll use it in, and any changes you're planning to make.
For example, if you're planning on repurposing our Blogging Mastery course to be targeted to authors, you might change the name to 'Blogging Mastery for Authors' (or something a little snazzier).
Or, as another example, if you're using one of our courses on Time Management and you're targeting realtors, you could call it 'Time Management Tactics for Stressed-Out Realtors.'
While you're working on any edits to the main content, you can outsource the creation of a branded eCover or other graphics for your new content at a place like fiverr.com.
Step 4. Make Your Edits Everywhere
Make your content edits, changes, additions, etc. to all your content. It's easiest to start with your Cheat Sheet, then Course Book, and then Action Guide. Make corresponding edits to your slideshow last.
Be sure to put your new title in headers and title pages, and your company name and url in the footers.
Short on time? At the minimum, change the title, headers and footers (to include title, company name, and url), and add your own 'Terms of Use' page that explains the documents are for personal use only. You'll probably want to add a bio or company page as well.
And don't forget to add a Call to Action to any content that you're using as a lead magnet!
Step 5. Add Your Branding
Now it's time to add your branding to all your content – colors, logo, fonts, theme, style sets, url, etc.
Setting up your own custom, branded theme will help you apply your branding quickly to any slides and documents.
Step 6. Break Up Content as Needed
Once everything is edited and branded, you can break up content into any separate files, depending on how you want to deliver it to your audience.
For example, if you're delivering an online course in separate modules, break up your documents and slides accordingly. Then, once converted to pdf and video, you can upload the relevant instructions, cheat sheets, and videos to their own sections in an online course or membership platform.
However, it's important to do your edits and branding first, so that you're working with a few documents as possible when you're making changes.
Step 7. Convert to PDF or Other Media
Save anything you plan to sell or share with customers/members into a pdf format, so that your users cannot edit your content. If they have editing ability, it violates your license terms.
For slideshows, if you want to record them as videos I recommend my process for recording audio first.
What About the Rest of Your Brandable Content?
Our complete ready-to-go course kits often come with other content you can use for attracting students, nurturing relationships, and more. You'll want to brand those also once you know what you're doing to the main course.
A few tips for customizing your other PLR content:
When it comes to any content you plan to publish on the web (like blog posts), you'll want to do more extensive edits and additions to make them unique to you and make it more likely they'll show up higher in search results. Google doesn't penalize for having the same content as other sites, but it will rank the content that seems most valuable.
For emails, always add your own personal greeting, some of your own language, a call to action (could even be to go read a blog post), and your own subject line. You can get ideas for subject lines HERE.
For social media posts, you'll also want to add your own language so they sound like you. I recommend putting the short tips on images also, such as the free ones you can get from Unsplash.com.
For any infographics, edit the colors for your branding and add your sales page or opt-in page url at the bottom with your logo. Most of our graphics are created in PowerPoint, so that should be easy. If you're using a different software, we often provide a "_shapes" version that doesn't use Smart Art.
If your content package came with some sales copy, you'll DEFINITELY want to tweak that to reflect your own expertise, story, and changes you've made to the course or lead magnet. Then use a proven template or one you've had created for your business, filling in the relevant copy. If you need guidance on what to put in a sales page, check out this post where I provided a Course Sales Page Template.
Finally, be sure to read through all the content you've purchased or plan to use. There's no substitute for a personal review of the content to make sure everything is consistent with your brand and your market!
Want to see some of these tips in action?
You can watch a full demo where I made one part of an online course unique here:
CLICK HERE to watch a demo of a rebranded course module >>
I hope that was helpful. If you have any tips you've found useful for customizing your content, please share!
Ready to put your content to work for you to grow your business?
Check out all our different topics here:
CLICK HERE to Shop for Brandable, Done-for-You Courses
Once you've downloaded your content, be sure to read any follow-up emails and tips that I send, since they often contain ideas for making your content unique and putting it to work for you 🙂