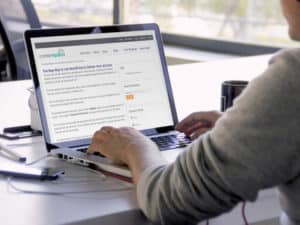 So you have all the content for delivering your own eCourse, courtesy of Content Sparks and all your own expertise. But are you getting bogged down with all the tech options out there for getting set up?
If all the options for membership sites, online course platforms, and other plugins has you stuck in one place, consider this….
One of the easiest ways to deliver your own eCourse is to use your WordPress site and protect the pages with a password.
To password protect the post, click on the 'Visibility' option in your Publish section of a post. Then select 'Password Protected' and type in the password for that post.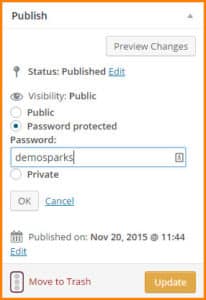 You can then send people the password with the email that introduces that particular segment of your eCourse. Your students use the password to access the post that has the full course module.
For the content of the post, you can copy sections of the text from your Course Book or short report, putting each chapter or section in a different post.
You can also offer a downloadable pdf version of that post to make it easy for people to refer back to. Either way, you'll definitely need to include a download link for any worksheets.
Also consider adding other media formats of your content.
Use slides to create a video version, and use a recording software like Audacity (free) to record audio. That gives people with different learning styles exactly what they need.
If you don't know how to record audio and slides to create a video, check out my tutorial on How to Record Slides as Video. That will give you both an audio file and a video to put on your page.
For the easiest way to display the audio, you can just upload it to your media library and insert that media into your page. WordPress will use its default player to show it.
For the easiest way to display the video, you can upload it to YouTube and keep it 'unlisted' or upload to Vimeo and password protect the video.
Here's what the settings look like in Vimeo when you click on the little cog wheel to get to your settings for a video: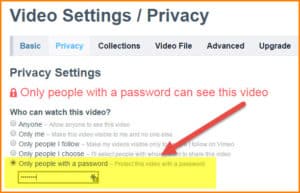 Here's an example of a video I uploaded to Vimeo and set as password-protected. It's a demo I created using content from our Know Your Customer course.
Since this is just for demo purposes, you can enter this password to see the video:
Password: demosparks
If you upload the video to YouTube and set it as Unlisted, people won't have to enter a password and the video won't show up in a search on YouTube. However, the video won't be quite as secure and your customers could always directly share the link to the video.
To set your video as Unlisted, just select that option in the visibility drop-down box in the first menu tab when editing your video in YouTube.

To display the video via YouTube, you can usually just enter the url in your post or grab the embed code and put it in the 'text' view of your WordPress post editor. Here's what the YouTube embed would look like:
Finally, you can use Amazon s3 to securely store your video files and then use a plugin for playing those videos. Amazon s3 is extremely cheap for storage, but the player plugins can range in price quite a lot. I use Easy Video Suite, but it is very expensive.
If you're just starting out you can try using the Media Guard plugin from Tech Based Plugins as one option for playing those videos.
One note with Media Guard: You'll have to set an expiry time on your video. This is an extra security feature that prevents people from freely sharing the link to your media. On the plus side, you can use Media Guard to protect video, audio, and downloads from s3.
There are hundreds of other options for hosting and delivering your eCourse, but it's easy to get bogged down on the technical side.
If you're new to all of this and find yourself delaying your course just because of the tech confusion…
Stick with a simple combo of:
Sales or Opt-in Page
Payment button (if it's a paid product)
Welcome email
Series of emails sending people to your password-protected WordPress post
Mixture of content on your post, including text, Vimeo or YouTube video, audio, and downloadable pdf/worksheet
If you're delivering your course as a paid product….
You'll need to use a payment option that integrates with your email platform.
One easy option is to use PayPal and then integrate it with Aweber (my current autoresponder service) using Aweber's app. Aweber has detailed instructions and a video on how to integrate with PayPal HERE.
Once your customer confirms their subscription to your program, they'll start receiving the follow-up emails you've scheduled, which should send them to your protected WordPress posts (along with the password, of course!)
Finally, if you're using this eCourse method to deliver a lead magnet or opt-in gift, remember…
Include your offer on your WordPress posts!
You'll want to mention your offer in your emails, but having the offer right there below your content will encourage people to check it out right away. They've just taken in all the great value you can offer, so they're most likely to want to buy something else from you.
That's the simplest method that will kick you into action with your course. Then you can start exploring other, more complicated and sophisticated options as you get comfortable. There's certainly no shortage and you'll probably want to move to a membership site next.
And, if you need some content to get that valuable course up and running quickly, check out this one on Email Copywriting Essentials:
Since it's all about how to write compelling emails that engage and convert, you can use the course to model your own email skills 🙂
What's your favorite and EASY way to deliver an eCourse?