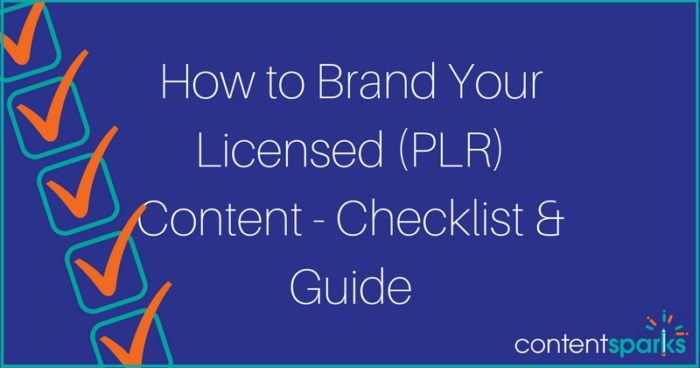 If you've already purchased some brandable, done-for-you (PLR) content from Content Sparks, then you already know that the beauty lies in the time it saves you in creating top quality, expert resources for your clients. And the cherry on top is the ease with which you can customize and rebrand your content to make it your own.
Our team of experienced researchers, writers and designers do all of the hard work so that everything you purchase from Content Sparks is really only missing your branding  and voice before it's ready to present to your target audience.
To make the branding process as quick and painless as possible, we implement a precise set of guidelines when creating our content:
Everyone must be able to put what they learn into action. So almost all our packages have learning activities incorporated in the content.
You can adapt your content for different people's learning styles – seeing, reading, listening and implementing. That means that you can convert your content to any media format without having to change much.
Content is flexible for use with different markets. You can easily swap out one example for another, or change language wherever needed.
All training programs are modular, so that you can move things around or deliver it in large or small pieces. At the same time, each piece should build on another. So, courses can be delivered all at once or combined with others to reinforce concepts or expand the scope.
Content is created to be as evergreen as possible. This isn't always realistic, especially when it comes to social media or resource links. That's why we revisit our products periodically to check for updates needed. Be sure to do your own checking before delivering any content to clients.
You should get a huge amount of value for your content investment. That includes repurposing your content over and over for different needs.
Naturally, it's inevitable that you'll be working with a wide range of different people yourself, so we created our content to be generic enough to customize to different markets.
That means that we're basically providing you with the mannequin that needs dressing and additional accessorizing.
When you receive your content, you'll find we've organized everything into sections according to how you might use the materials.
For example, our Blaze products are comprised of Participant materials, (for your students) Facilitator materials, (to help you implement and teach your course) and Promotional materials, (so you can sell your course). Within those sections you'll find all the key elements you need. We've also numbered each folder to create a somewhat logical order to help you create the ideal structure and flow for implementation of your content.
It's important that you systematically go through each section and item of content for a number of reasons;
Put Your Name on it
We've been creating professional content for training and marketing for over 20 years, so we're confident that you'll be more than happy to put your name on it. Add your logo, include your website URL, give people the opportunity to connect with you on Social Media. Make it your own!
Incorporate Your Brand
This means using your brand colors, fonts, or anything else that your customers typically associate with your business to keep your content consistent with your brand identity. There's a link to download a guide further below.
Tweak for Your Target Market
We're willing to bet you know your customer pretty well. You'll find plenty of opportunities to edit Content Sparks content so that it speaks directly to them. This might mean adding a story, inserting your own opinion, or changing a few examples. Whatever changes you make, it's worth taking a little time to help build an emotional connection with your specific audience.
Repurpose
You'll find that a lot of your new content can be used in a number of different ways, so focus again on your target client. What kind of content do they like best? As you're going through your package, think about the best ways you can repurpose elements to suit your ideal clients and their needs.
To help make sure you brand the essentials of all your content, we've put together a complete guide to branding your Content Sparks content. We even included a checklist to make sure you cover all the basics.
Click on the button below to download your Instructions for Branding Your Content Sparks Content:
If you find that your branding question isn't covered in this guide, please email us so that we can update that document.
Contact us as support@contentsparks.com
We've also uploaded the guide to our customer Facebook Group.
If you're a customer of Content Sparks, CLICK HERE to request to join, if you haven't already.