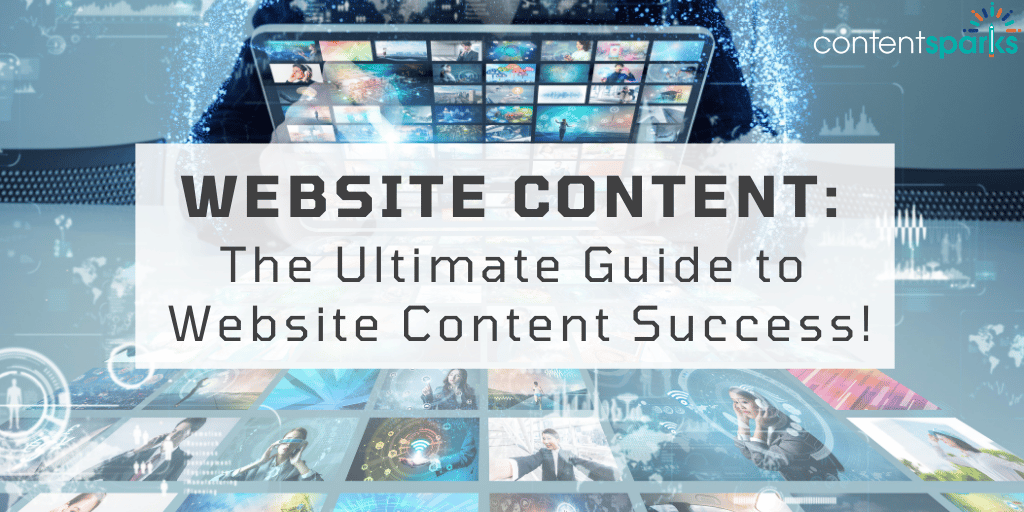 If you're planning your website, the actual content is probably the last thing you are thinking about. You have the colors, the mood boards, the logo mock-ups, and the layouts to look at.  Website Content, the actual words and images, are not even sparks in your imagination.
Then your web developer says "Can I have your website content?" and you stare at them blankly whilst fighting the urge to go and binge eat handfuls of cereal.
If you're stuck for website content, take a deep breath. This post will help you create the website of your dreams, and you'll know exactly what to say and where to say it.
Where to Start With Your Website Content
Establish what pages you need on your website. You will have told your web developer things like "Home" "About" and so on.  So make a list of the pages that you have told them to create.
Check out this post on the pages you need for your website for info on the basics.
Are they the same pages as the ones on your list? Yes? Brilliant, well done. No? Update your list with what you're missing.
Writing Your Website Home Page
In this section, I'm going to share some great tips to help you write your home page. You won't need sedating at all. In fact, you're going to be excited to write a great home page.
Once you have your home page sorted, it's time to look at your about page.
About Page Success
If you think your about page is about you; think again.
Nobody cares about you, until you show them that you care… to paraphrase Roosevelt. This means your about page has to show that you care about your ideal client, and how you want to help them with their thorny issues.
The example I'm going to share with you the Content Sparks About Page
Here you can see the simple formula:
Mission  -what you do and who you serve
Who is Sharyn Sheldon
About Content Sparks
Our Content Creation Philosophy
How to get in touch
How to obtain a content planning template (editorial calendar)
All you have to do is change the content that fits you and your business.
Services Page
Your services page needs to inspire your website visitor, and scream "I'm credible! You want me!"
So here's some content to get you started on your services page.
For a B2B company, a service or a product page is one of the most important pages on your website. Therefore, when it comes to redesigning it, you may find that it's also one of most challenging pages to get right. What does a service page need to have? What elements are required to make this page as effective as possible? In essence, your service page needs to:
Look great to attract visitors
Tell a story of what you offer
How your services/products provide the solution that the prospect is looking for
How your company stands apart from the competition Source
Wondering what's the best way to "sell" your services on your website's Services page?
If you want to effectively highlight what you do and how you do it, the Services page should clearly break down your primary services in a way that users can easily understand – and perhaps most importantly, direct prospects to get in touch or find out more information about them. Source
Services present different conversion challenges than products.
Trust is a bigger part of selling services. A faulty product can be returned, and flaws are relatively objective. But with services, customers may worry about what recourse they will have if they're unhappy, even if you offer excellent customer service guarantees.
While the benefits to the consumer should be the focus when you sell both products and services, your qualifications and experience come to the forefront when you're promoting a service. Service providers span a huuuuuge range of industries—from termite inspectors to business consultants to massage therapists. Source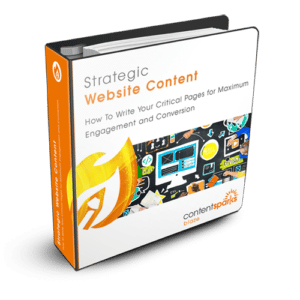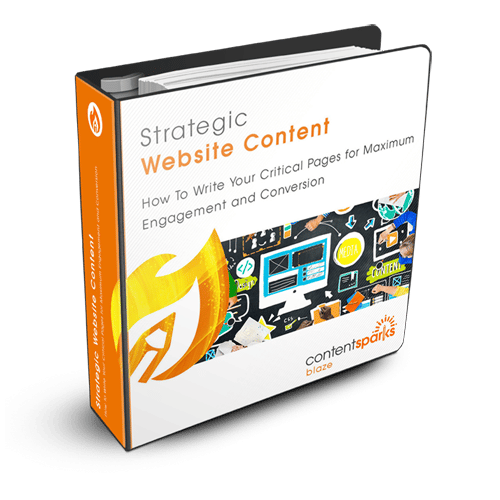 Now you have some of your main pages, you absolutely need to check out Strategic Website Content. This will help you finish your essential website pages.
If you are thinking that's all the content you have to create, then I'm afraid that I'm going to burst your bubble.  The good news is you want the content that sucks in traffic and then converts.
Blog Posts That Convert
Once upon a time, many years ago in blogging, you could share your holiday pics and people would read the post and comment.
Now? Their eyes glaze over…

With so many great articles available, your readers want and expect your blog content to stay in alignment with the rest of your website. This means creating the content that your readers crave.
Top-performing, effective website content needs to:
Increase awareness of your brand
Engage your target reader
Forge a connection with your audience
Generate and convert more quality leads
Boost search engine ranking
Have blog posts that convert
Types of Long Form Content
Buyer's Guides work really well:
The easiest one to start with is the one that's related to products or services you sell, and the one that suits your ideal customer. Mine could be "Hosting: The Buyer's Guide For New Dad Bloggers".

First-time purchase guide
After-care guide
Comparison guide
Additional Products /Upsells
Advanced / Pro User Guide

You don't need to actually call your buyer's guide by this term. You can also use recommendations or "how to choose".

Using my example, I might call it "Hosting Recommendations for Dad Bloggers" or "Dad Bloggers: How to Choose Hosting" or "Hosting comparisons for dad bloggers". Don't call your guide the ultimate guide unless it really is the ultimate guide. Source 
Write a manifesto post about who you are and why what you're doing matters to your audience. This expands on the mission we mention for the about page. In fact, you can link your about page to your manifesto.
Why your company culture is important 

Your company culture is driven not just by your tagline, but also by:

How clearly you define and speak to your ideal customers: Who will feel like your business was made just for them?
How you operate your business: What do you want your customers to feel after spending time with you? What is your commitment to them?
Your purpose for being in business: Why does your work matter?
Your leadership with your employees: How are you continually inspiring them to feel meaning and connection to your business, and their role in it? Source
You will also need Skyscraper content, since it not only sucks in traffic, but it boosts your SEO
The Skyscraper Technique is a link building strategy where you improve existing popular content and replicate the backlinks.

Here's how it works in a nutshell:

Find a relevant piece of content with lots of backlinks;
Create something way better;
Ask those linking to the original piece to link to your superior content instead.

Essentially, this tactic builds on the natural human tendency to be attracted to the best. Source
Pillar post content is something that you'll create on a regular basis, perhaps twice a month, to fit in with your editorial calendar.
Think of a pillar blog post like the columns in the ancient Greek temples. The pillar is what holds up the building. It supports the weight.

A pillar post does the same thing. It's the foundation that supports the rest of your content marketing.

Pillar posts are big, meaty posts. They're useful, actionable, well-written, and engaging. They're filled with relevant images and audio/video files to support the points you're making in the text.

As a result, pillar posts have something that 99% of other blog posts don't have: longevity.

The average blog post gets a spike of traffic when it's first posted… then it quickly dies down. After 48 hours, most blog posts are basically dead. They never again bring in more than a trickle of traffic. Source
Any More Content My Website Needs?
Thank you for asking!
You need to show your ideal client that you are their person! When your content is aligned with how you help and support your "person" then your website content is no longer a sticking point! Each post and page makes your person feel like they've come home, they feel connected to you even though you've yet to meet. This means you need to plan your next level content.
Creating Your Website Content is Easy When You Have a Plan
A website content strategy will save you hours of time in the search engines. You'll get back days of your life by not having to ask a stream of questions in Facebook groups, and you'll find that creating content is something that comes easily to you.
Next Level Content
As you can see from this post, there's a lot of incredible ways for you to create website content. We'd like to share one more way with you.
Here at Content Sparks we create incredible, brandable course kits. This means you can buy one of our course kits, add your logo, and teach it yourself. The fantastic thing about our course kits is they are uniquely dual-purpose.
Teach yourself
Teach others
So you can get the Next Level Website Content course kit and teach yourself how to create the very best website content. Then, when you've done that, you can use the materials to teach others. You can use your site as an example and ensure the content is unique to your audience.
Yes, you read that right! You can get the Next Level Website Content course kit here and gain incredible ROI when you use it yourself,. And then you can teach the content to customers, or build your online course empire.
With Content Sparks your content will have the "Oh" factor.
Want to ensure that your website pages have the 'oh factor'? Download the Website Page Planner!
Click on the link below and add your contact info. We'll send it right over.
Want to learn more and teach others about supercharged content strategies that drive traffic and sales?
Check out our brandable, ready-to-teach course:
With Next Level Website Content, you'll get everything you need to create your own webinar, workshop, lead magnet, or paid product that helps people tap into powerful web content strategies that will take their sites to a whole new level.
When you purchase a license to any of our ready-to-go course kits, you get the rights to edit it any way you want (or leave as-is) and add your own name and branding.
Then use your new course to:
Attract new clients and customers (such as with a free training, webinar, or eCourse)
Add a new stream of income (such as with a paid course or workshop)
Keep your current customers successful and coming back for more (such as with bonus webinars, videos, and other learning resources).
Enjoy!