We've all heard it before. Customers buy from companies they know, like, and trust.
Customers also prefer to buy from businesses they respect and relate to.
Your core business values may be one of the driving forces behind your brand, but they're so much more than that.
The principles by which you operate your business are what attract the right customers. They attract the right employees and motivate them daily. They also attract the right business partners while helping to guide your decision making.
In fact, your core values are what drive your entire business, regardless of what's happening in your market or the economy.
Core business values are the make up of your business's essential DNA and they establish its culture.
While they may sound a little corny or sentimental, values are actually a critical part of your business's success. All the big companies that have stood the test of time have them.
Here are just a few examples:
Southwest's "Live the Southwest Way"
Warrior Spirit (Work Hard; Desire to the best; Be courageous; Display a sense of urgency; Persevere; Innovate)
Servant's Heart (Follow the Golden Rule; Adhere to the Basic Principles; Treat others with respect; Put others first; Be egalitarian; Demonstrate proactive customer service; Embrace the SWA Family)
Fun-LUVing Attitude (Have FUN; Don't take yourself too seriously; Maintain perspective (balance); Celebrate successes; Enjoy your work; Be a passionate Team player)
Coca-Cola
Leadership: The courage to shape a better future
Collaboration: Leverage collective genius
Integrity: Be real
Accountability: If it is to be, it's up to me
Passion: Committed in heart and mind
Diversity: As inclusive as our brands
Quality: What we do, we do well
Rackspace
Fanatical support in all we do.
Results first. Substance over flash.
Treat rackers like friends and family.
Passion for our work.
Full disclosure and transparency.
Committed to greatness.
Facebook
Focus on Impact: "If we want to have the biggest impact, the best way to do this is to make sure we always focus on solving the most important problems."
Move Fast: "We have a saying: 'move fast and break things.' the idea is that if you never break anything, you're probably not moving fast enough."
Be Bold: "We encourage everyone to make bold decisions, even if that means being wrong some of the time."
Be Open: "We believe that a more open world is a better world because people with more information can make better decisions and have a greater impact."
Build Social Value: "We expect everyone at Facebook to focus every day on how to build real value for the world in everything they do."
Ready to define your own set of core values?
We've put together an infographic based on content from our course called From Values to Profit.
It will help you identify your core values based on a series of brainstorming questions.  Check it out: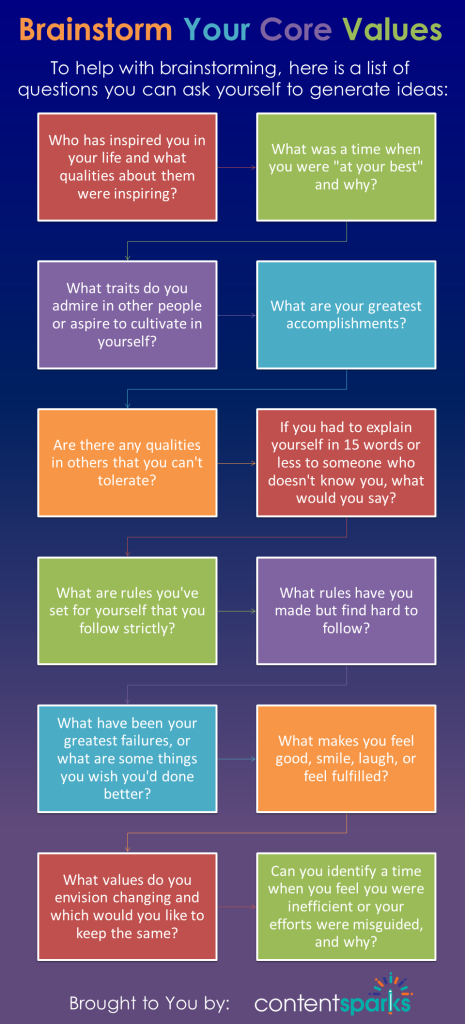 As I said, this is based on information from one of our courses, which you can grab a license to and teach to your own customers and readers.
Here's the link to find out more: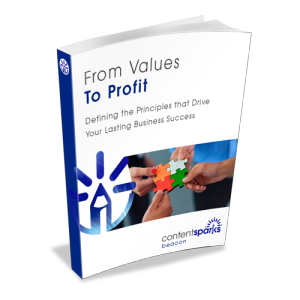 Do YOU have a set of core values that drive your business? Please share in the comments.