Want More Content on How to Overcome Sales Objections?
We've created an 'Expansion Pack' which includes quizzes, worksheets and more, that you could add on to your How to Overcome Sales Objections package.
Or, use the content on its own to attract more followers, build customer loyalty, and drive more leads and sales.
As an expansion pack, the content allows you to provide an even more extensive program for your students. You can use the materials to create additional training, and could even add them directly to the existing Course Book. Use the extra content to supplement those main course materials.
You could also use the content as bonuses to increase the value of your program. Or consider using elements as additional lead magnets to attract students to this or another course.
The How to Overcome Sales Objections Expansion Pack includes:
Clarify Your Sales Pitch + Checklist – Improve objection handling by clarifying your sales pitch. Use the checklist to review all your communications channels to ensure you are clearly and consistently describing your product or service and that other people are doing the same.
Overcome Sales Objections in Your FAQs Worksheet – Use this worksheet to incorporate your most common sales objections into the FAQ section of your website and sales pages so that you can educate your prospects about your product/service.
How to Overcome Sales Objections: Module Quizzes – Engage your audience with quizzes for each module of the Course. You can easily add these quizzes to your online course platform to test your students' knowledge. Or use them individually to generate discussion and interaction in a live training.
BONUS!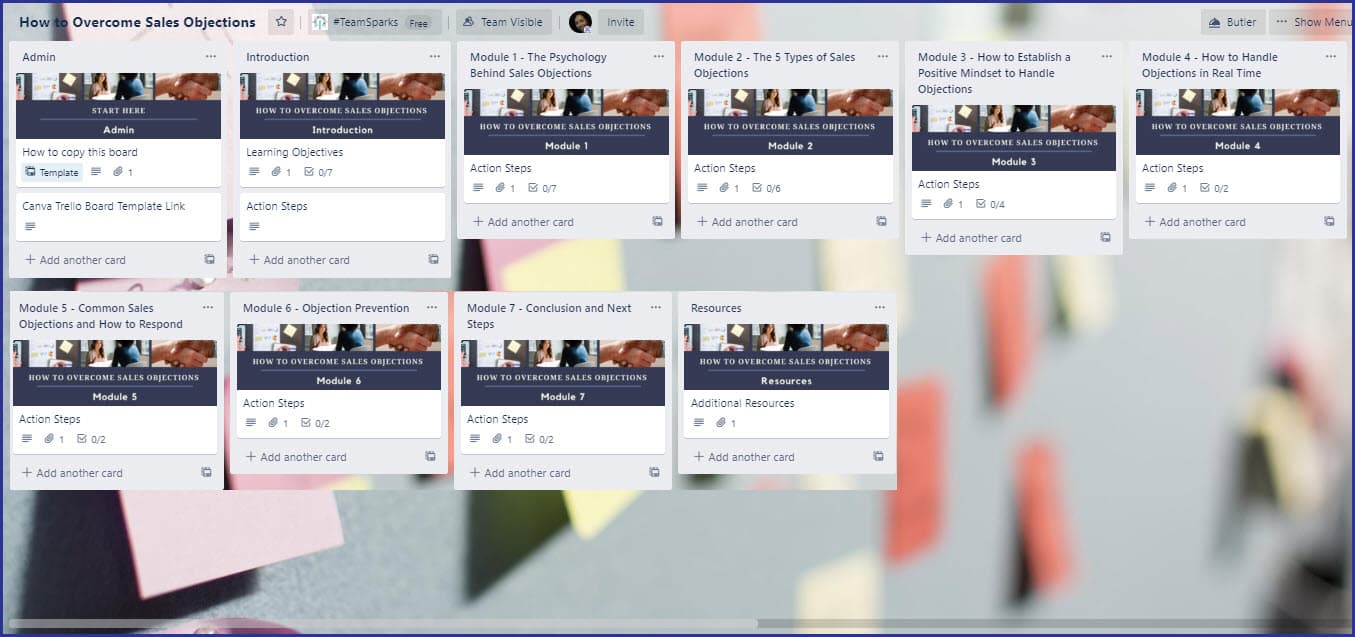 If you get BOTH How to Overcome Sales Objections AND this Expansion Pack, you'll get the following bonus:
Trello Board – The Action Guide for 'How to Overcome Sales Objections' set up for you in an interactive Trello Board.
Just copy the board and edit however you want. Then offer it as a bonus for students in your program, so they have a digital way to complete the Action Steps.
You can even repurpose it in the future for other online courses!
IMPORTANT: The Bonus Trello Board will be sent via a separate email when you purchase both packages – the main course on How to Overcome Sales Objections AND the related Expansion Pack.
Screenshot previews of all your content in the "How to Overcome Sales Objections Expansion Pack":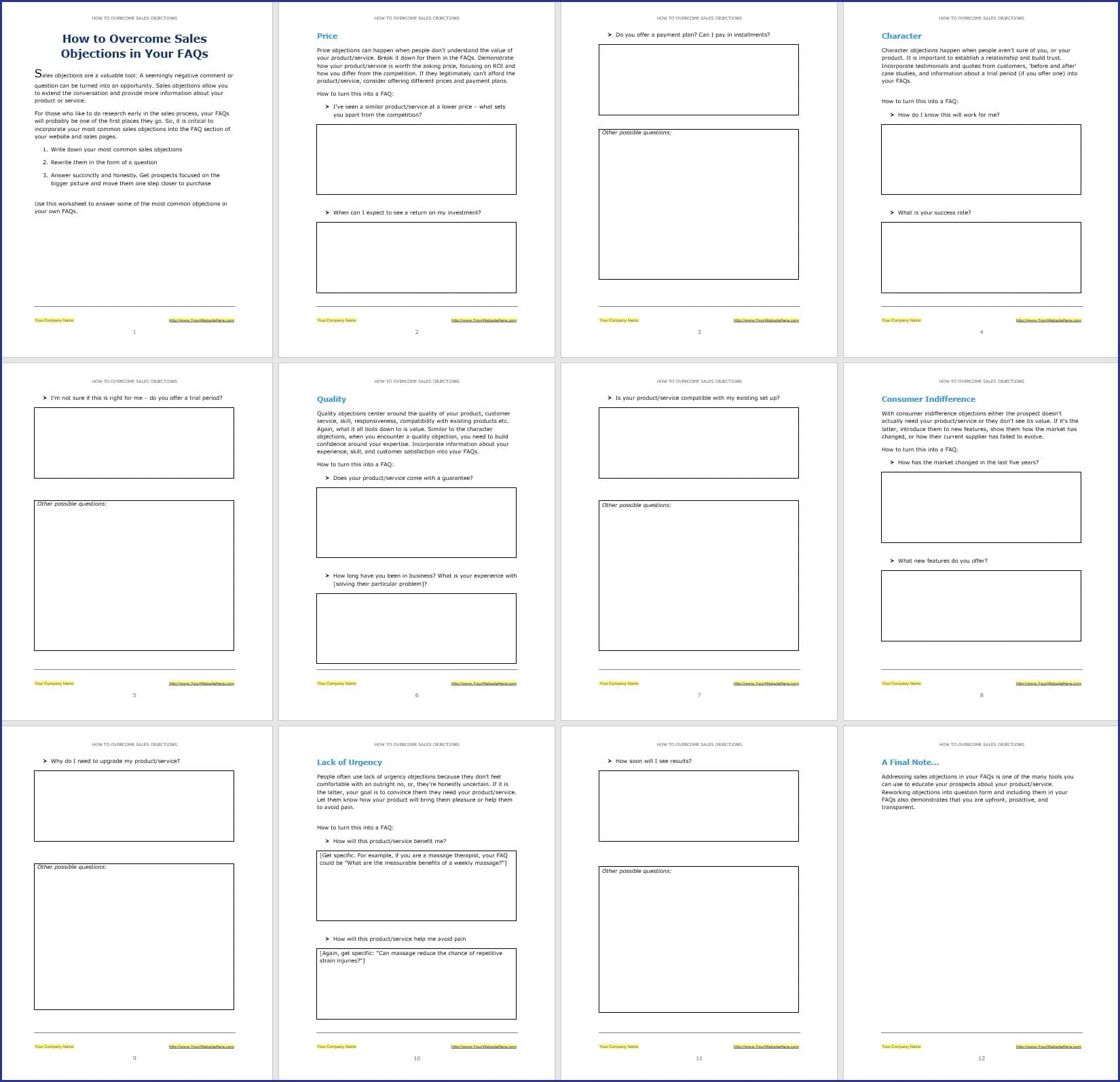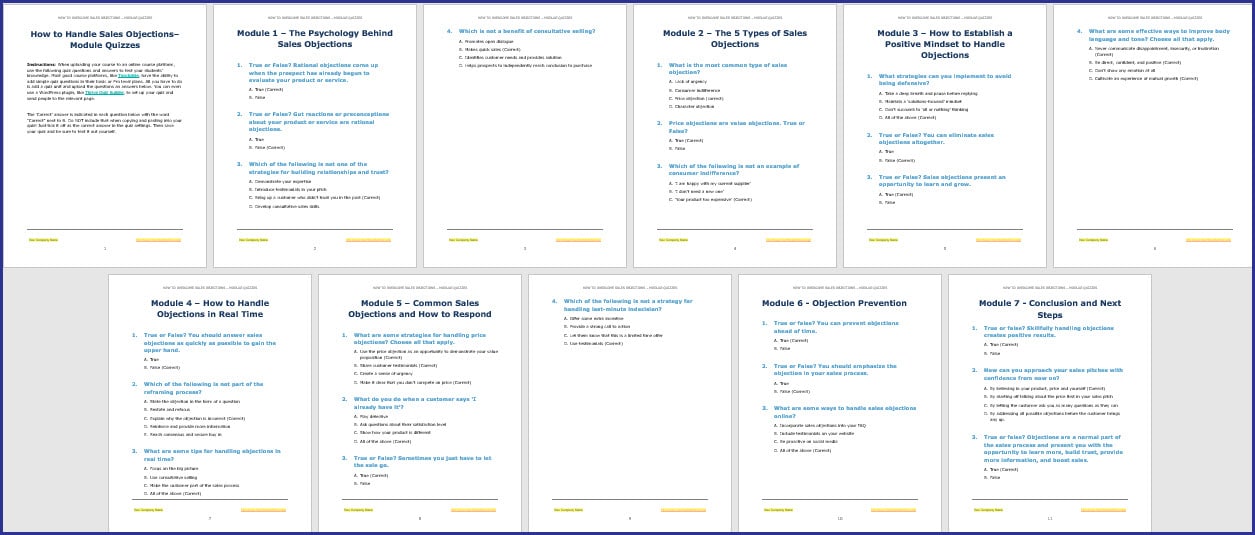 If you don't already own the main course on How to Overcome Sales Objections, you can get it here:
Then, be sure to pick up the How to Overcome Sales Objections Expansion Pack here:
Get the How to Overcome Sales Objections Expansion Pack: